Move Over John Wayne Gacy: Murder Defendant Jodi Arias' Art Auctioned On EBay, Painting Sells For $120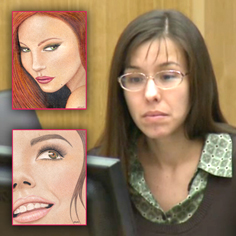 Article continues below advertisement
As RadarOnline.com previously reported, Jodi, now 32, is accused of shooting Travis Alexander, a 30-year-old motivational speaker, in the face, stabbing him 27 times and slitting his throat from ear to ear in his Mesa, Arizona home.
Ironically for the woman, who is accused of butchering her former boyfriend because she was obsessively jealous of his relationships with other women, one of the pictures is of a "green-eyed, red-head" titled Capricorn that was drawn with colored pencils in November 2000, eight-and-a-half years before Travis' violent death, and has been listed for sale since July 2012.
"This drawing is an original drawing and part of the 'Zodiac Series' by Jodi Arias. It is drawn with colored pencils on cardboard," reveals the item description.
"This drawing will come framed and matted. I am also selling other drawings from this talented artist."
Another painting from the same collection called Picasso Calla Lilies Bouquet sold on Thursday for $120, no doubt thanks to the high profile nature of the trial, which is being compared to Casey Anthony's infamous case.
MORE ON:
Celebrity Justice
Article continues below advertisement
Other artwork includes close ups of a baby's hands and feet, a mixed race couple holding hands and a pretty brunette model that resembles the budding artist, who personally signed each piece.
Using the name 0817soldierofchrist, the amateur art dealer lists the item location as Redding, Calif., which is 90 miles away from where Jodi was last living with her grandparents in Yreka, and was revealed in court on Thursday to be the town where she rented a car in the days before the alleged murder.
Jodi's mother, Sandy Arias, has reportedly given up her job to sit quietly behind her daughter in the Maricopa County courtroom throughout the lengthy proceedings.
Arias is far from the first person to attempt to make their name as an artist from behind bars. According to the memorabilia website Murderauction.com, the top dollar creative convicts are Charles Manson and the late "killer clown" John Wayne Gacy, with the Helter Skelter cult leader's work selling in the range of three or four figures.