Murder Suspect Jodi Arias 'Calm And Upbeat' During Police Interview One Day After Alleged Victim's Body Was Found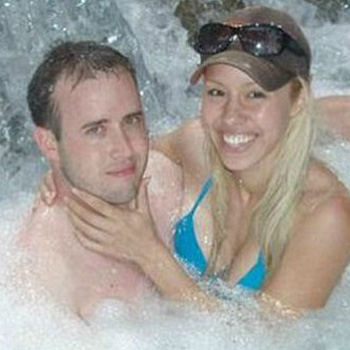 After hearing testimony from her other boyfriend who revealed how she visited him in Utah immediately after allegedly butchering Travis Alexander, the calm voice of Jodi Arias echoed around the Maricopa County court on Wednesday when taped police interviews with police, RadarOnline.com can reveal from inside the courtroom.
Recorded by Detective Esteban Flores of the Mesa Police Department on June 10, 2008 - the day after Alexander's bloody and decomposing body was found and six days after the alleged murder - Arias sounded calm and relaxed as she gave in-depth details about their relationship and her road trip to see Ryan Burns - all the while claiming she had not seen Travis for two months before his death since she had moved back to California.
Article continues below advertisement
As RadarOnline.com previously reported, Jodi, now 32, is accused of shooting the 30-year-old motivational speaker in the face, stabbing him 27 times and slitting his throat from ear to ear in his Mesa, Arizona home.
"I talked to him early Monday morning as I was up late Sunday night, I had a good 45 minute talk with him until about 4 a.m. He was a night owl and I was a night owl," the pretty brunette can be heard saying on the tape, as she sat looking frail and thin across the courtroom listening to herself.
"He was joking with me because I was going to Utah and not Arizona. The primary reason – and I didn't tell Travis this - was I was going was to meet somebody. We weren't totally open about our dating life," she admitted.
Arias then went on to detail how her rapid road trip went from Northern California through Santa Cruz and Monterey, to Los Angeles to visit a friend who recently had a baby, and on to West Jordan, Utah, with no mention of having visited Alexander, or of arriving 24 hours late to her final destination.
Article continues below advertisement
She said she spoke to Travis briefly on Tuesday night (June 4) but then began to grow concerned when she didn't hear from him for a few days.
"I sent him a couple of text messages and a picture. I just figured he was either in California because he was planning to go there before Cancun," she told the detective.
"I didn't want to be obsessive about it because we're not together anymore," she explained, but said she thought it was odd that his voicemail was full as he always deleted messages. "It didn't feel like my place any more to call his friends."
Jodi then went on to calmly chat about her 12-hour drive to Utah, including a sinister revelation that she had an interest in getting a hand gun for protection because she often slept in her car.
"I've looked into hand guns because that is one of the things that I am scared of. But hand guns are expensive and not really in my price range right now," said Arias, who allegedly shot Travis in the face with a .25 caliber semi-automatic, possibly after his death from stab wounds and a slit throat.
MORE ON:
Celebrity Justice
Article continues below advertisement
When she did finally speak to one of her ex-boyfriend's pals, he told her the terrible truth as to why he had apparently gone AWOL.
"He said, 'They found him, I don't know anything right now. The police are there.' I was totally shocked and I don't think I said much," Jodi can be heard recalling as her voice breaks for the first time.
"I kept thinking that they made a mistake. I felt so helpless that I wasn't there.
"Travis was a friend of everybody, even when things were bad between us he would give his last dollar." She quickly regained her composure however, and asked if a check of hers that was found at his house would be cashed.
Earlier in the police interview, Arias told Det. Flores that although after dating from February to June 2007, she and Travis split when she found out he was seeing other girls after hacking into his text messages.
Article continues below advertisement
"I don't think I trusted him enough and I don't think he trusted me enough not to get into his phone," she said, but they continued to sleep together often after late night texts from Travis inviting her over. "There was certainly a romantic side but we weren't exactly on a path to marriage and we both knew that."
One key piece of alleged evidence is the camera found by investigators in Alexander's washing machine which contained not only sexual photos of the couple but what is thought to be the final pictures of the victim, first alive in the shower and then dead on the floor.
While aspiring photographer Jodi said she advised him over the phone about what camera to buy, she claimed she had never seen it.
Arias later changed her story twice, first claiming that two masked intruders broke in and attacked them both but she was too scared to call the police. She then changed her mind again, citing self defense and telling detectives that Alexander got violent with her.
If convicted of first degree murder, Jodi will face the prospect of becoming the fourth woman on Arizona's death row.