Exclusive
Travis Alexander's Friend 'Angry' Tax Dollars Are Providing Jodi Arias With 'Everything She Wants' Behind Bars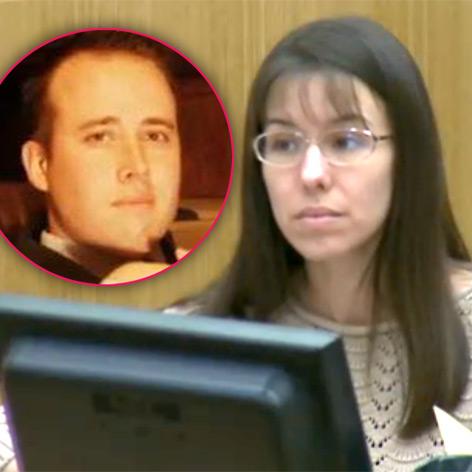 It is tough enough seeing Jodi Arias crying in court everyday as she tries to win over the sympathy of the jury , but her alleged murder victim Travis Alexander's friends also have to live with the knowledge that their tax dollars are paying for her welfare and upkeep while behind bars, and they are not happy about it.
"Arias basically killed him three times over so it has been hard for me watching her go on TV and get all of her hair and make-up done knowing that my tax dollars are giving her all the food, education and everything that she wants while behind bars," Alexander's good friend Tamara Mauro told RadarOnline.com in an exclusive interview.
Article continues below advertisement
As RadarOnline.com previously reported, Jodi, now 32, shot the 30-year-old motivational speaker in the face, stabbed him 27 times and slit his throat from ear to ear in his Mesa, Arizona home in June 2008, and is currently on trial in the Maricopa County court, where she could become the fourth woman to face the state's death penalty.
"My mom works in the prison system as a nurse, and I know the types of benefits that inmates get there," Tamara went on to reveal. "They will say, 'Hey, I want this book from the library and it's not here, you have to order it right now.'
"They have the right to ask for things like that, they have all of their meals taken care of, they have fitness centers, and basically the only thing is they can't just leave or see their family whenever they want.
"Yeah, she can't go out and party, date or go to the movies whenever she wants, so there are restrictions, but at the same time she has a bed and activities that are set up for her," explained Tamara, Travis' friend since 2004.
Article continues below advertisement
Arias has already proven her desire to be in the spotlight even while behind bars by beating out other prisoners to win an American Idol style contest in December 2010 with her rendition of O' Holy Night.
"It angers me that my money is going to pay for her to be in jail right now," Tamara vented. "It is really hard thinking that she did this and even if she is in prison for life, she doesn't have to try to get a job or struggle to support herself. It is frustrating knowing that someone like that gets to live off the hard work of other people.
"I am not someone that believes hugely in revenge but it is hard because on the one hand I know what she did and the extent of it," said Mauro, when asked if she believes that Arias deserves the lethal injection. "Capital punishment isn't something that I think about on a regular basis, but if I was her and knowing that I would have to face God after doing something like that I think it would be a lot harder than just living in jail for the rest of my life. I am glad I am not the one who has to decide that."
Article continues below advertisement
While Arias has been accused of playing up to both the cameras and the jury throughout the nail biting trial, Mauro credits Alexander's family for their class and strength during the most trying of times.
"His family is awesome, they have all been through so much even before this. From what I understand his parents are deceased, he wouldn't talk about it a great deal, he was very brief about it - but there was drugs and things involved," she told Radar.
"Travis lived with his grandmother for sometime and had to raise himself and the kids are all very close because of what they went through, but they all made that conscious decision not to repeat history."
As for the depraved image of a 'sexual predator' and abusive boyfriend that the defense are trying to paint Alexander as, Tamara said that couldn't be further from the man she knew and loved.
"I think it is completely absurd that they are portraying him as a sexual predator, anyone who knew Travis knew he liked to joke around but there is no way that he could ever hurt anyone," she explained. "He was always laughing and smiling and wasn't serious."
Stay with RadarOnline.com for updates and daily live-streaming of all the courtroom drama as the Jodi Arias trial continues at 9:30 a.m. PT/12:30 p.m. ET Tuesday.