Dina Lohan Provides Shocking Photo Proof Of Alleged Abuse From Michael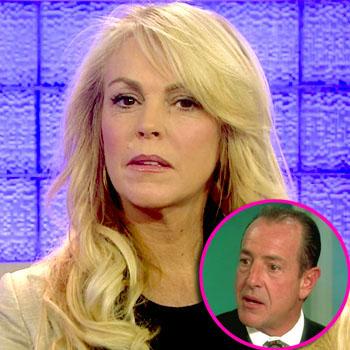 Dina Lohan alleges that she suffered years of physical abuse at the hand of Lindsay's father, Michael Lohan, and now the Lohan matriarch has released shocking photographic proof to back up her claims.
In two photographs obtained by Entertainment Tonight, a much younger Dina is seen with a black eye, and in one photo she's holding a baby.
"I need to make the world aware that Lindsay is messed up because her father is messed up," Dina told the NY Daily News on Monday in an explosive new interview in which she alleged physical abuse and rape by Michael.
Article continues below advertisement
Dina alleges the abuse occurred in 1986 and the rape four years later, but Michael says it's all a big misunderstanding, telling ET, "Dina hit me with an ice tray, and I turned around and swung…I didn't punch her. I didn't do anything deliberately to attack her. I swung out of reflex…she's twisting everything."
"Lindsay saw her dad abuse me -- that's why she's so screwed up," Dina told the Daily News, who reported that she brought police and medical reports, as well as photographs illustrating her injuries from the 1986 attack. "She saw a lot of crazy stuff. I want the world to know the root of her problems.
"Lindsay saw all the beatings and all the abuse. She said, 'Stay, mommy, don't leave.' She said, 'I'm so sorry for making you stay.' But I didn't stay for Lindsay -- I wanted all my kids to be happy."
Michael told the Daily News that Dina is just trying to distract from the negative attention she and Lindsay are receiving from their late nights out together.
"She's bringing this up now because she's drinking and partying with Lindsay. And she keeps robbing Lindsay," Michael told the paper.