Lindsay And Dina Lohan Ring In the New Year With Nonstop Partying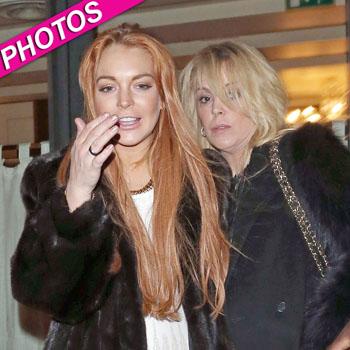 Lindsay and Dina Lohan LOVE to party together and they got their New Year's celebration started early when they hit up C London restaurant Sunday night.
The mother-daughter duo had glazed eyes when they left the trendy restaurant. Dina stumbled and had to have help staying on her feet.
Both wearing furry jackets and mini dresses to show off their legs, the ladies dined at the eatery in the heart of London's Mayfair district.
Article continues below advertisement
At one point, Lindsay looked strangely out of it while talking to a female friend during the dinner. And later, when leaving the restaurant, the actress looked at the camera with an vacant expression and her long red hair disheveled.
Dina, who made a bizarre appearance on Dr. Phil last fall, also appeared to be worse for wear.
As RadarOnline.com previously reported, Lindsay continued to display a haggard look on Monday, New Year's Eve, as she was photographed entering the Dorchester hotel in London.
MORE ON:
hollywood happenings