Exclusive
Lindsay Lohan Lied About Not Knowing About Her Half-Sister On GMA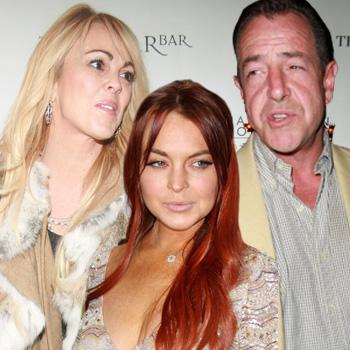 Article continues below advertisement
"Lindsay's reps gave the executive producer of Good Morning America a LENGTHY list of subject matters that she absolutely wouldn't be asked by Amy Robach. GMA had to agree in writing before the interview that Lindsay wouldn't be asked ANY questions about the many criminal legal issues she was facing, including the looming lying to cops charge after her car accident last summer," a source close to the situation tells us.
"The primary focus of the interview was for Lindsay to talk about her role in the Liz & Dick television movie. Lindsay's new p.r. team is working to craft a new image of her, and this includes only having her do print and television interviews that they can control. Lindsay's team hand-picked Amy Robach to do the interview because they thought she would be comfortable with her. GMA agreed to the conditions because they thought the audience would want to see what Lindsay had to say. If GMA hadn't agreed, they were prepared to go elsewhere. One option for Lindsay's television morning interview wasn't the TODAY show because they NEVER would agree to any pre-conditions of any interview, it's just not what they have ever done," the insider added.
Article continues below advertisement
As RadarOnline.com previously reported, Lindsay acted surprised when asked on GMA about this week's widely reported news that she has a secret half-sister.
When GMA's Amy Robach broached the topic that her dad Michael Lohan had recently been given DNA proof that he had fathered a child, now 17-years-old, out of wedlock with a former mistress, LiLo replied: "I didn't even hear that, so thanks for the news!"
However, a source tells us Linds, who has been known to have a problem telling the truth, "absolutely knew she had a half-sister for a very long time. Lindsay has Google news alerts set up for every member of her family, including her dad, so when it made news yesterday, she absolutely read about it. However, Lindsay found out long before that she has a half-sister. Lindsay is embarrassed by it and doesn't have a desire to meet her sibling."
Article continues below advertisement
Lohan's appearance on GMA came days after she canceled an in-depth interview with ABC's Barbara Walters, only to make a surprise comedic appearance on Late Night with Jimmy Fallon. She's also scheduled to appear on The Tonight Show with Jay Leno next Tuesday.
Liz & Dick premieres on Lifetime on Sunday, November 25 at 9/8.
A spokesperson for GMA says, "there were no conditions on the interview and if there were, we wouldn't do the interview....We asked the questions we wanted to ask."
When reached for comment, a representative from Rogers & Cowan denied that there were any restrictions placed on the GMA interview. "GMA graciously booked Lindsay on the show to promote Liz & Dick and we were all very happy with the result," the rep told RadarOnline.com.
RELATED STORIES:
Lindsay Lohan: What! I Have A Secret Half-Sister?
Lindsay Lohan Lied! Dina Says Her Daughter Didn't Tell The Truth About Her Cocaine Use