Critics Slam Lindsay: Lohan's Portrayal As Liz Taylor Like A 'Saturday Night Live Skit'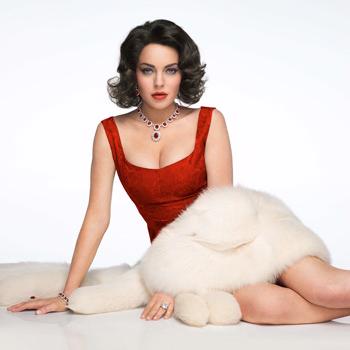 If Lindsay Lohan is pinning her acting comeback hopes on Lifetime's Liz & Dick movie, at least one critic has a brutally harsh message for her: give it up!
Lohan and the movie are so awful that viewers will think they are watching a "lost Saturday Night Live" skit, according to one critic.
The film about Elizabeth Taylor and Richard Burton is best suited for a drinking game, writes the Hollywood Reporter, adding, "Anyway, on to the parts of the film where people walk and talk. The talking part doesn't turn out so well for Lohan.
Article continues below advertisement
"There is not one minute in this film where she's believable."
Hey wait, is that a prosecutor talking or a TV critic?
Lindsay has apparently put on better performances in her many real-life court appearances, as the critic notes that it is impossible to take Lindsay seriously as the legendary Liz, "which the producers clearly thought would work because they share similar backstories. Except for the part about Taylor being a gigantic movie star and Lohan not being one."
The most unintentionally funny part of the movie is when Lohan appears as an older Liz. "(Richard) Burton dies and the late-era Taylor is unveiled for the first time," writes the Hollywood Reporter. "The moment Lohan appears in this get-up, it's impossible not to laugh. It really does look like SNL. She can't really pull off the young, sexy Liz with much believability, so the mid-'80s look is awkward squared. She gets the news of Burton's death and faints - a straight drop to the floor - that also somehow seems inadvertently hysterical."