Exclusive
Lindsay Lohan Is Being Destroyed By Partying With Her Mom, Says Michael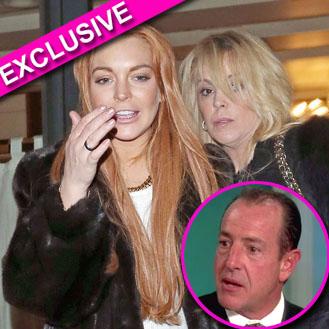 By David Perel - Executive Vice President/Managing Editor Radar
Michael Lohan has plenty to say after seeing pictures of his ex-wife Dina and daughter Lindsay partying in London on New Year's Eve, and tells RadarOnline.com exclusively that between Dina's "mind games, financial pressure and enabling" of Lindsay, he feels she's going todestroy her.
"Can you believe this?" the outspoken show business parent told us exclusively of images of Lindsay and Dina living it up in the UK. "Is this a case of the blind leading the blind or what?"
Article continues below advertisement
Michael said he cannot even fathom how Dina parties with Lindsay, as the Mean Girls star is "losing all her belongings, with no resurrection of her career in sight."
Michael suggested that "maybe instead of checking into hotels and night clubs in London, Mommy Dearest and daughter should have checked into rehab together -- but then again, neither of them have alcohol or drug problems!"
Michael wondered aloud about LiLo's next court appearance, an arraignment slated for January 15 on three charges stemming from her car accident in Santa Monica, California last summer.
"How disgusting is this when Lindsay has a court date coming up that can put her in jail or rehab? It might have been a better idea if she checked into rehab ALREADY, to show the judge that she is serious she is about getting better and avoiding jail time!" he told us exclusively. "I think that Lindsay is in for a rude awakening when she goes to court, but I still pray she goes to rehab, not jail!
"I can't say the same about Dina … I am so disgusted!"