Dina Lohan On Lindsay's Charges: 'Our Family's Bond Grows During Tough Times'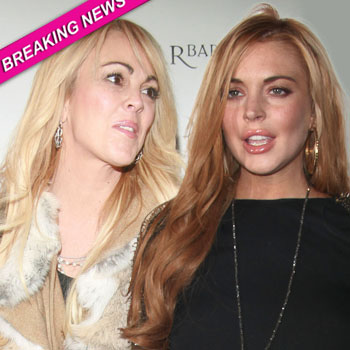 By Amber Goodhand - RadarOnline.com News Editor
Lindsay Lohan's mother, Dina, has released a statement to RadarOnline.com about her daughter's recent legal troubles and Thursday morning arrest asking for privacy and noting that the tough times bring their family closer together.
"At this time I kindly ask that you extend to my family the time we need to address my daughter's circumstances with the appropriate parties. As a mother you always love and pray for the best with all your children," Dina said.
Article continues below advertisement
"Our family's bond grows deeper and stronger during the tough times and I am beyond proud of all of my children for the love and devotion they provide for each other."
Dina goes on to say that she will stand by Lindsay — and all of her children — no mater what.
"We are there for and stand by one another unconditionally. Many thanks to all that have expressed concern for my daughter," she said.
"Your compassionate thoughts and prayers are received with my deepest gratitude."
Lindsay, 26, was arrested and charged with third-degree assault after she allegedly hit fellow partier Tiffany Eve Mitchell on Thursday morning at a Manhattan nightclub.
Just hours later, Lindsay was formally charged with three misdemeanors by the Santa Monica City Attorney for lying to police about her June car accident on the Pacific Coast Highway when her Porsche slammed into the back of a big-rig.
Article continues below advertisement
Dina's ex-husband and Lindsay's father, Michael Lohan, exclusively told RadarOnline.com of Lindsay's bar brawl arrest:
"Both Dina and Lindsay are in a dark place. I TOLD you exactly what would happen and YOU KNOW I was trying to get Dina on board with me for a long time, BUT especially the last two weeks. Lindsay is acting out in numerous ways because she needs us and internally she's hurt and angry! Again, it's ALL on Dina and I wish to God she would stop and resolve things with us to do the same for our children."