Exclusive
Lindsay Lohan: 'I Would NEVER Lie To Cops, I Was Confused After Car Accident'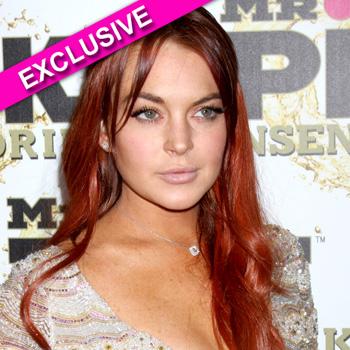 By Jen Heger - RadarOnline.com Assistant Managing Editor
Lindsay Lohan is telling her close friends and associates that she never would have deliberately lied to cops when asked if she was driving the car that rear-ended an eighteen wheeler in Santa Monica, Calif. last summer. Rather, the actress insists she was extremely confused after the accident, RadarOnline.com is exclusively reporting.
"Both airbags were deployed when Lindsay rear-ended the dump truck on Pacific Coast Highway last summer. She doesn't remember exactly what she said to cops while being treated for injuries she sustained at the hospital," a source close to the actress tells us.
Article continues below advertisement
"There was a lot of commotion in the emergency room, and Lindsay was extremely upset and concerned for her assistant Gavin, who was also in the car with her. Gavin was bleeding, and Lindsay was just freaking out. There were cops coming at her from every angle, and her primary concern was making sure that Gavin was OK. She was also stressed-out because she had been en route to the set of Liz & Dick. Lindsay says she was very confused after the accident and would never deliberately lie to the cops," the insider added.
As RadarOnline.com previously reported, Lohan rear ended a dump truck on Pacific Coast Highway last June. The Porsche, driven by Lindsay, was totaled and sent the actress and her assistant to the emergency room. Neither suffered any serious injuries. However, in the moments before Lohan's legal ace attorney, Shawn Holley, arrived at the emergency room, the Mean Girls star had already told cops she wasn't driving. Investigators have confirmed with multiple eyewitnesses that LiLo was in fact behind the wheel.
Article continues below advertisement
After Lindsay is charged with lying to cops in connection with the accident, the Los Angeles City Attorney will ask the judge to throw the embattled actress behind bars for violating terms of her probation in her necklace theft case.
"Once Lindsay is formally charged with lying to cops, the Los Angeles City Attorney's office will ask for a formal probation violation hearing," a law enforcement source tells RadarOnline.com exclusively.
"At the conclusion of the probation hearing prosecutors will ask the judge to sentence Lindsay to significant time in jail - up to one year. Prosecutors and cops think there is more than enough evidence for the judge to find Lindsay in violation of probation and are hopeful that this time, she will face the maximum penalty for lying to cops. Remember, the burden is much lower for a probation violation, just the fact that Lindsay will be charged with a crime is enough for her probation to be revoked and sent to jail," the source tells us.
Article continues below advertisement
Lohan is "truly hoping that she won't be sent back to jail. Lindsay will absolutely freak out if she has to go back there. Lindsay just can't even fathom the idea that she is in this situation again, of facing significant jail time," the source close to the actress says.
RELATED STORIES:
Prosecutors Want Lindsay Lohan To Do 'Significant Jail Time' For Allegedly Lying To Cops
Michael Lohan Loses Lawsuit Over Unsettled Debt, Brings Pregnant Girlfriend To Court