Lindsay Lohan Arrested In NY After Allegedly Hitting Clubgoer In The Face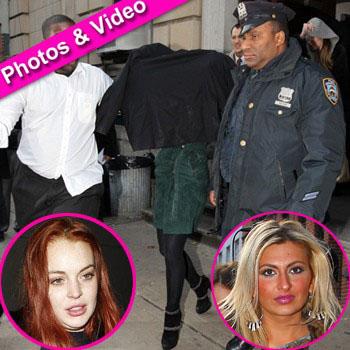 Lindsay Lohan hid her face from photographers Thursday morning after leaving the NYPD's 10th Precinct after she was arrested and charged with third-degree assault for allegedly hitting a woman in the face at the Manhattan nightclub Avenue.
The 26-year-old actress, according to authorities, hit the woman, 28-year-old clubgoer Tiffany Eve Mitchell of West Palm Beach, Florida, around 4 a.m. ET Thursday, after the two exchanged words after bumping into one another while rubbernecking a separate fight that broke out near the VIP area of the venue, where they both were seated. Prior to visiting the club, Lohan had attended Justin Bieber's concert at Madison Square Garden.
Article continues below advertisement
While the initial run-in seemed to pass by without incident, LiLo later confronted Mitchell, hitting her in the face, leaving it swollen and bruised, police said.
Lohan was issued a desk appearance ticket and was ordered to appear before a New York judge on January 11.
As she left with an entourage around 7:30 am E.T., witnesses said Lohan repeatedly yelled, "Get out of the car Gavin, get out of the car now!" likely in reference to one of her assistants, Gavin Doyle.
Watch the video on RadarOnline.com
Doyle told the paper, "It's become a pastime to use her name and fame and blame things on her."
The paper reported that one man and two women (one of whom was assumed to be Mitchell) were also seen leaving the station, and that the man was quoted as saying, "Lindsay Lohan got drunk and went crazy and hit my wife."
In an ironic twist, LiLo was actually banned from the very same club a few years back -- after implying in a tweet that Justin Timberlake had cheated on then-girlfriend Jessica Biel -- but the restriction was later relaxed.
Article continues below advertisement
Lohan's latest arrest is not her first run-in with law enforcement in New York City.
Alleged victim Tiffany Eve Mitchell
The star was involved in a NYPD investigation in September after claiming that a man had assaulted her in a New York hotel, but charges against the man were later dropped.
Also in September, LiLo was arrested in NYC after leaving the scene of a so-called 'accident' in which she was accused of clipping a man with her car outside another Manhattan nightclub, but prosecutors chose not to move ahead with charges.
In October, cops were called to her childhood home on Long Island after a report of a fight between her and her mother Dina. An investigation revealed "no criminality" and no charges were filed.
This latest brush with the law is yet another complication for the troubled actress, who remains on probation until May 2014 stemming from her shoplifting conviction, and as RadarOnline.com previously reported, Lohan is likely to face charges for lying to cops when she said she was not behind the wheel of her Porsche when she hit an eighteen wheeler last summer in Santa Monica, California.
Article continues below advertisement
The actress seemed to be working her way back into the mainstream as of late, starring in the much-reviled -- but much-buzzed about -- Elizabeth Taylor biopic, Liz & Dick.
Just last week, she told US magazine that she'd absorbed crucial life lessons while during her jail stint in 2010, particularly when she was in solitary confinement.
"As hard as it was for me to admit it when I was in denial, it was a blessing in disguise," she said of the time spent behind bars. "I took the time to really get into the right headspace."