Lindsay Lohan Arrested In NY Hit-And-Run Incident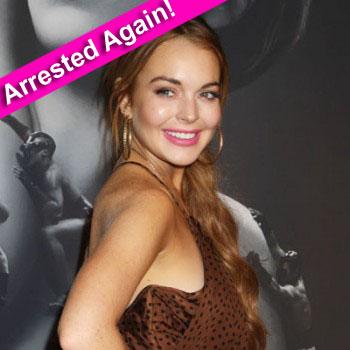 Lindsay Lohan was arrested in New York early Wednesday in connection with leaving the scene of an accident, New York police tell RadarOnline.com.
The troubled actress made contact with the knee of a pedestrian (believed to be in his 30s) as she parked her Porsche Cayenne in a spot at Manhattan's Dream Hotel at around 12:30 a.m. ET, police told RadarOnline.com.
Despite hitting the man, Lohan, 26, still went inside the hotel to attend an event with her passengers. When she left the hotel around 2:30 a.m., police were waiting for her as she stepped outside.
Article continues below advertisement
The Long Island native was arrested on the misdemeanor, handcuffed, given a desk appearance ticket and released on her own recognizance.
Police tell RadarOnline.com Lindsay was "cooperative" while being taken into her custody and that alcohol was not involved.
The pedestrian was taken to the hospital to be checked out.
In wake of Lindsay's arrest, a source close to the situation told us: "This is all a farce. The evidence will prove that nothing of consequence happened."
A source told RadarOnline.com that when the police arrived Lindsay was yelling: "Call my dad! Call my dad!"
Michael Lohan refused to comment when asked about the incident.
The incident could impact Lohan's probation in her theft conviction under terms of the agreement.
Earlier this week, Lohan's family was in the news when her mother Dina appeared incoherent during an interview with Dr. Phil.
RELATED STORIES: