Exclusive
Lindsay Lohan 'Confident' Arrest Won't Trigger Probation Violation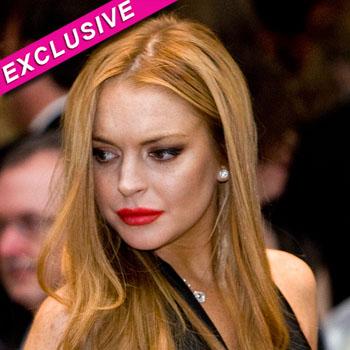 By Jen Heger - RadarOnline.com Assistant Managing Editor
Lindsay Lohan is confident that her early morning arrest in New York City for allegedly leaving the scene of an accident, won't trigger a probation violation in her misdemeanor necklace theft case, RadarOnline.com is exclusively reporting.
"Lindsay believes that her arrest in New York City won't cause any trouble for her even though she is still on probation in the necklace theft case," a source close to the situation tells us. "Lindsay doesn't believe that Judge Stephanie Sautner would find that she had violated terms of her probation, because she maintains that she never hit the pedestrian. Lindsay is confident that she won't suffer any legal consequences from her arrest. Lindsay says she would never leave the scene of an accident if she was aware she had hit someone and she is hopeful that this matter will be resolved quickly."
Article continues below advertisement
As previously reported, the 26-year-old starlet was hauled off to jail early Wednesday morning after an alleged hit-and-run accident and a source on the scene told RadarOnline.com that when police arrived Lindsay was yelling: "Call my Dad! Call my Dad!"
Lindsay's rep Steve Honig tells RadarOnline.com, "While some of the facts are still being gathered, it appears that this is much ado about nothing. We are confident this matter will be cleared up in the coming weeks and the claims being made against Lindsay will be proven untrue."
Lilo remains on informal probation for the stolen necklace caper and is no longer required to check in with a probation officer, or be drug tested.
However, Linsday has been instructed by Judge Stephanie Sautner to not break any laws.
"Shawn Holley was woken up very, very early this morning after Lindsay was arrested," the source says. "Lindsay was able to speak with Shawn while she was being processed at the police station. Lindsay is no stranger to being arrested and she followed Shawn's advice and didn't talk to the cops."
Article continues below advertisement
Lohan may be in trouble with the law again but her father Michael Lohan previously told RadarOnline.com that he stands behind his daughter 100 percent and believes that she wasn't drinking prior to her latest arrest. Papa Lohan says that he is "SO happy that Lindsay had confidence in me! I love her; I will always be there for her.
"I am happy that she is away from other people and was NOT drinking last night!"
Michael also told RadarOnline.com that Lindsay has a solid team around her now. "I am happy that Shawn Holley, Dave Feldman, Gavin and my lawyer and our friend Ben Pietra were there for her."
RELATED STORIES:
Lindsay Lohan Arrest: Dad Michael Says She Was NOT Drinking
Dina Was Paid $50k For Train Wreck Dr. Phil Interview Says Michael Lohan
Dina Lohan Flips The Bird At Dr. Phil During Bizarre Interview