Dr. Phil Calls Dina Lohan Out On Lindsay's Behavior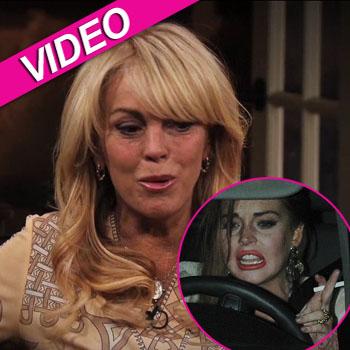 Article continues below advertisement
In the latest clip, Dr. Phil stars a scrolling list of Lindsay's trouble with the law beginning in 2005 to which Dina makes a few slurred comments and then complains that it's moving too quickly for her to read.
"That's going really fast. Slow down, guys," she says.
"I know but, we're in LA, so… If she was living in New York, five of them would be obsolete."
"You're missing the point," Dr. Phil pleads.
"I understand that demise," Dina says, pointing to the screen. "But…you're under a microscope here. In New York it's not like that."
Dr. Phil then jumps to an interview he did with Georgia Rule producer James G. Robinson.
"We are well aware that your ongoing, all night heavy partying is the real reason for your so-called exhaustion," Dr. Phil read from an excerpt of the letter Robinson claims he sent to both Lindsay and Dina at the time of production.
Article continues below advertisement
"I'm gonna tell you the real story," Dina interjects. "No. I never got a letter. I never spoke to this man in my life!"
"She was busy doing other things on the east coast," Robinson says. "I disapprove of the mother. My opinion, but she's not had what I consider the proper parents."
"I don't even know what that gentleman is saying," Dina says, and then tries to explain why Lindsay was off set so often in a sentence using the word "like" more than five times.
MORE ON:
hollywood happenings
"Here's what he does know," Dr. Phil says. "He does know that he was paying for her bodyguards and had their written reports and that they were out with her until three o'clock in the morning."
"It's a money game in this town, you know that. I'm not saying Lindsay was perfect, certainly," she says.
"And there is problems going on and I'm certainly not exonerating that."
Meanwhile, Michael Lohan exclusively told RadarOnline.com he believes Dina hasn't been the mother Lindsay needs and that she's caused Lindsay's behavior.
Article continues below advertisement
"If Dina would stop with her lies and delusions of appearing on Dancing with the Stars, her DramaMamas show, and producing a movie for my son Michael, maybe she get some help and be a mother then get a real job," Michael said.
"I didn't want to do this but she has hurt Lindsay and the kids too long and hidden behind the lies."
To see Dina's full interview with Dr. Phil, tune in Monday, September 17.
RELATED STORIES: