Exclusive
Lindsay Lohan Bank Accounts Seized By IRS; 'What Happened To All Her Money?' Asks Michael Lohan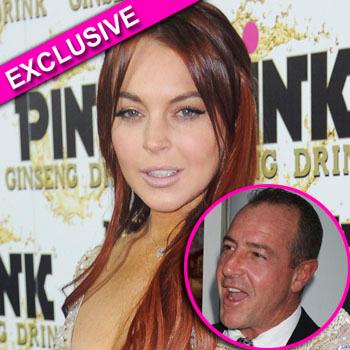 By David Perel - Executive Vice President/Managing Editor Radar
What happened to Lindsay Lohan's money?
That's what her father Michael Lohan would like to know, he tells RadarOnline.com in an exclusive interview, after the Internal Revenue Service swooped in and froze the star's accounts fornon-payment of federal taxes.
Facing myriad criminal legal problems, Lindsay must now deal with the IRS, which obtained tax liens against her for $233,000 of unpaid taxes from 2009 and 2010.
Article continues below advertisement
Meanwhile Lindsay not only recently was paid for her TV movie Liz & Dick, but shealso collected a heft appearance fee to promote an energy drink.
"I would like to know where the $150,000 is she made on the Pink Energy Drink," Michael told Radar.
"Ask Dina," he added, continuing to lament his ex-wife's lack of help in getting Lindsay appropriate treatment as she reels from one crisis to another.
The amount Lindsay was paid for promoting the Mr. Pink Ginseng drink is unverified but clearly did not go to satisfying any part of her IRS debt.
Now, with her accounts frozen, Lindsay is running out of time and resources to fight her mounting legal woes.
She was recently arrested for punching Tiffany Eve Mitchell, a psychic from Florida, in a New York club. New charges have also been filed against her in California alleging she lied to police about a car accident, claiming she was not driving. And she is still on probation in yet another criminal case.
Article continues below advertisement