Jodi Arias Death Penalty Trial: Victim Hid Sexual Relationship, Sent X-Rated Photos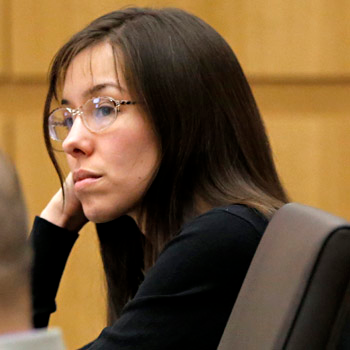 Trying to help their client avoid the death penalty, Jodi Arias' lawyers painted Travis Alexander as a liar who violated the rules of his religion and sent X-rated photographs of himself to her as the trial ended its fifth week of testimony on Thursday.
Alexander hid his sexual relationship with Arias from friends but at the same time sent photographs of his genitals to Arias, even though he was an elder in the Mormon church, jurors were told.
Article continues below advertisement
Daniel Freeman, a friend to both Arias and Alexander, testified Thursday and said Alexander kept Arias away from his Mormon friends. He also testified he did not know that they had a sexual relationship while he lived with Alexander in 2007.
In fact, Alexander used Freeman as a type of shield, with Freeman telling the court: "I don't know that I can say he didn't want to be alone with her, but he liked that when I was there, and my sister was there. They weren't as physical." Freeman took two trips with Alexander and Arias.
The defense lawyers are hoping to portray Alexander as controlling and a sexual deviant, who lied and hid his sexual relationship. They will try to convince jurors that Arias killed him in self-defense.
Freeman testified that Alexander was considered a church elder. His sexual relationship with Arias could have led to excommunication if discovered.
One intriguing part of Thursday's testimony was Freeman revealing he called Arias to tell her Alexander was dead. He was asked by prosecutor Juan Martinez if Arias admitted she killed him and Freeman said she did not.
Article continues below advertisement
Freeman told jurors he traveled with Arias and Alexander to the Grand Canyon and when they stopped to eat at a restaurant Alexander flirted with the waitress.
"He made a joking comment to the waitress about him and Jodi not dating," Freeman testified, adding it was "in kind of a flirtatious manner."
Freeman also told jurors that on another trip things were very tense between Alexander and Arias as they went hiking and that the lovers argued.
Alexander even asked Freeman to chaperone the trips so he and Arias would not get physical with each other.
One of Alexander's ex girlfriend's previously testified that Alexander cheated on her. But the defense attempt to portray Alexander as untrustworthy may have backfired because when asked whom he cheated with, Lisa Daidone answered: "Jodi Arias."
Alexander was stabbed 27 times and shot in the head by Arias after they had sex. Graphic crime scene photos entered into evidence show the bloody victim in the shower and photographs of Arias naked – photographs taken right before she killed Alexander.
As graphic as that evidence is, there is apparently more sexually explicit evidence that has not been seen. Court was stopped Thursday, and the jurors cleared from the room as attorneys argued about admission of the new mystery evidence.