Death Row Murder Suspect Jodi Arias Even Lied In Her Diary: 'Travis Is Dead. What Happened?!?'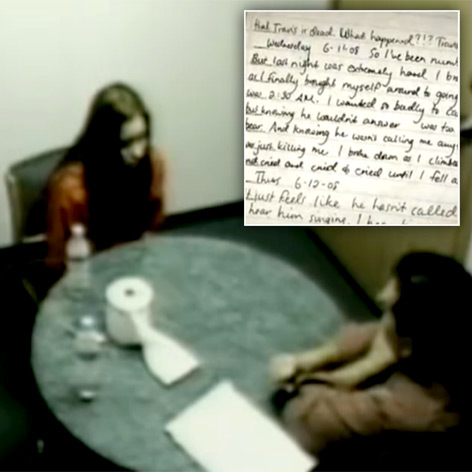 Death row murder suspect Jodi Arias was so wrapped up in her self-made world of deception that she even lied in her very own private diary about Travis Alexander's death, RadarOnline.com reports.
The page of diary entries, found in court motions, were seized by police from Arias' bedroom in her grandparents' Redding, Calif. home and are dated from June 10 to 13, 2008 — just days after Alexander was brutally killed and 24 hours after his decomposing body was discovered.
Article continues below advertisement
As RadarOnline.com previously reported, Jodi, now 32, shot the 30-year-old motivational speaker in the face, stabbing him 27 times and slitting his throat from ear to ear in his Mesa, Arizona home on June 4, 2008.
According to ABCNews.com, the bizarre excerpt in the aspiring photographer's scrawled handwriting read: ".. that Travis is dead. What happened?!? Travis, what is this?"
The next entry is dated June 11 and said in part, "Last night was so hard... I wanted so badly to call Travis, but knowing he wouldn't answer was too much to bear. And knowing he wasn't calling me anytime soon was just killing me. I broke down as I climbed into bed and just cried and cried and cried until I fell asleep."
However, as testimony from a Verizon Wireless witness showed earlier this week, the brunette bombshell did breakdown and call her ex-boyfriend's cell phone – at least 10 times in the days leading up to his death and four afterwards, including a call that lasted 16 minutes and could have been an attempt to delete his voicemails messages.
A week after his gruesome death, his accused killer wrote, "It just feels like he hasn't called me in too long. I hear him singing. I hear him laugh."
Article continues below advertisement
A following eery entry that shows the depth of her lifelong obsession with him reads: "Travis always told me he liked the name Iris for a girl...If I ever have a son I'll name him Alexander."
Now in light of claims by her lawyers that she killed her former boyfriend in self defense, the diary entries appear either as bold-faced lies or psychotic delusion, both of which are echoed in Arias' glowing farewell to her lover in his guestbook for obituary service, Legacy.com.
"You've had one of the greatest impacts on my life, and have forever altered it's course for the better. I love you, my friend, and always will," read the creepy dedication.
"She immediately began posting all these photos and flooded his Facebook page with pictures of them and tried to position herself as his woman," Taylor Searle, who was both best friends and business associates with Alexander, told RadarOnline.com in an exclusive interview.
Article continues below advertisement
"It was a like a P.R. campaign. I was disgusted because I was certain it was her, then she showed up at his memorial acting distraught."
On Thursday, Maricopa County court Judge Sherry Stephens announced a break of more than a week in the proceedings, and the defense will now present their case beginning on January 29.
Stay with RadarOnline.com for updates on the trial when it continues.
RELATED STORIES: