Death Row Murder Suspect Jodi Arias' Alleged Getaway Car Had 'Kool-Aid Colored' Stains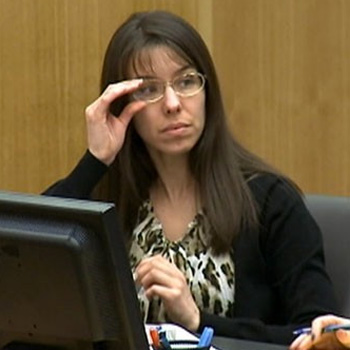 The sex-scandal fueled drama of Jodi Arias' death row murder trial continued on Wednesday as it was revealed that the rental car she allegedly fled the grisly crime scene in had suspicious blood-colored stains, the jury in the Maricopa County court heard.
As RadarOnline.com previously reported, Jodi, now 32, is accused of shooting Travis Alexander, a 30-year-old motivational speaker in the face, stabbing him 27 times and slitting his throat from ear to ear in his Mesa, Arizona home in June 2008.
Article continues below advertisement
Soon after Alexander's gruesome death, Arias embarked on a mammoth road trip to visit another boyfriend in the inconspicuous rental car – clocking up 2,834 miles – after asking for a vehicle that "would not stand out," according to reporter Chris Williams from 12 News in Phoenix.
Her attempts at blending into the crowd were thwarted by the fact that the license plate was on upside down, prompting a police officer in West Jordan, Utah, to pull her over and then tell the court that in his 30 years of traffic patrol it is the first time he's seen such a blunder.
Even more suspicious were the "Kool-Aid colored stains" in the back seat of the white Ford Focus and missing floor mats that were noticed by the Budget rental car company representative when Jodi finally made her late return to the Redding, Calif., office.
Later in the day's court proceedings, jurors appeared skeptical over the scenario presented to them by the prosecution and submitted questions to Detective Esteban Flores after his testimony regarding Travis' two roommates and whether they noticed he hadn't been seen around the house for multiple days.
MORE ON:
Celebrity Justice
Article continues below advertisement
"They believed he was in Mexico already," Flores responded, referring to a trip to Cancun Alexander had planned to take shortly after the time of the killing.
The jurors then asked about the roommates' whereabouts during the attack. "One was working, and the other was staying at his girlfriend's home, house sitting for her parents," Flores said.
While she initially claimed she was not even at the house that week, Arias then claimed two masked intruders had attacked her and Travis, and then eventually admitted to killing Alexander in later interviews with police, in an act that her attorneys are describing as self defense.