Jodi Arias' Shockingly Graphic Testimony -- Details Steamy Trysts With Devout Mormon She's Accused Of Murdering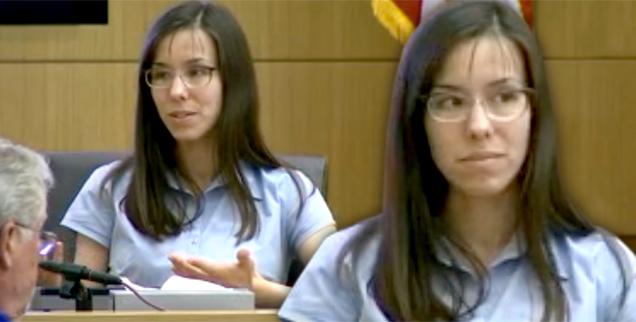 Jodi Arias takes the stand for a third day on Wednesday to testify in her bombshell murder trial, one day after she described in graphic detail her sexual encounters with the devout Mormon she is accused of brutally murdering.
Far from sticking to the vow of chastity expected from the church, the passionate couple went straight from their first kiss to spending the night together within a week of meeting, then on their next date, Arias claimed, they had a raunchy hook-up in her car in broad daylight!
Article continues below advertisement
As RadarOnline.com has previously reported, during her first day on the stand Monday, Arias, 32, admitted to killing her former boyfriend, 30-year-old Travis Alexander, a motivational speaker, by shooting him in the face, stabbing him 27 times and slitting his throat from ear to ear in his Mesa, Arizona home in June 2008. Her defense maintain she acted in self-defense.
"Yes I did," Arias said when asked if she killed Alexander, and when questioned why, she claimed, "the simple reason is he attacked me."
Continuing her attempt to paint the alleged murder victim as a sex crazed aggressor, Arias testified to the Maricopa County Court on Tuesday that Travis had initiated all of their steamy sexual encounters , and that she had felt "obliged" to perform oral sex on him.
"I felt apprehensive but I was going with it. I didn't want to tell him 'no.' I didn't want him to feel rejected or get his feelings hurt, or spoil the mood by saying 'stop,'" she claimed. "Even though it was uncomfortable, I kept going with it. He wasn't aggressive but definitely doing the initiating at that point."
Article continues below advertisement
During her graphic testimony, which included intimate details about both performing and receiving oral sex from Alexander, Jodi looked down at one point and said "this is embarrassing," while the victim's sisters looked on at her with intense hatred.
Arias went on to testify about their sexually charged and hugely conflicted relationship, which she said flipped between flirtatious phone conversations, dirty text messages, naked photo sessions and religious talk -- alleging Alexander was wearing his Mormon undergarments the first time that they hooked-up -- and detailing how the pair went to church together the next day.
"We were calling each other back and forth at that point. We mostly talked about church and he wanted to know how I liked it," Arias, who later converted to Mormonism to please Alexander, testified.
The next time they met, Arias said, they discussed the Book Of Mormon at Starbucks while Travis drank Chai tea because coffee is forbidden – before going against all the church's pre-marital sex taboos and engaging in a XXX-rated rendezvous in their car at a public park!
MORE ON:
Celebrity Justice
Article continues below advertisement
"He wanted oral sex... he wanted to receive it," Jodi alleged. "I was attracted to him and I wanted to do what he wanted to do. I liked him."
After he was satisfied, "He fixed the visor of the car mirror and pulled his pants back up. When he started the engine he flipped the visor and angled the mirror," she explained.
"We parted ways. I didn't feel bad but felt deflated. He refused to kiss me afterwards because he said it was 'gross,' so he kissed me on the cheek and left."
The next time they met up was in a motel room in Ehrenberg, Arizona, and Jodi testified that although "intimacy was heavily hinted at" during previous phone conversations, she was disappointed by the lack of romance. "It wasn't everything that I was expecting but I didn't have high expectations. We didn't connect like I did on the phone," she said.
Earlier in her testimony, Arias made the shocking allegation that the chemistry between her and Travis was so strong from the very first moment they met, at a conference in Las Vegas, that she immediately broke-up with her live-in boyfriend of four years the minute she returned home.
Ironically however, she still remained living with the now-ex, Darryl Brewer, in the Palm Springs home they had bought together.
The sex fueled nature of the couple's relationship continued right up until Travis' death, with Arias taking naked photos of him in the shower just moments before killing him.
Keep checking back with RadarOnline.com for regular updates and daily live-streaming of the bombshell trial as it continues.