New Mexico Top Cop Caught On Tape Having Sex In Uniform On The Hood Of A Car!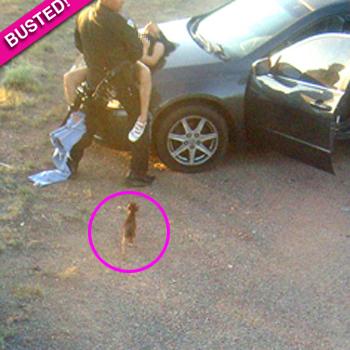 An officer from the New Mexico State Police Department has been fired after security cameras caught him -- in full uniform -- having sex with a woman on the hood of a car!
Bert Lopez, named Officer of the Year by the State Police Department in 2009, was caught by surveillance cameras which had been installed by the Sante Fe PD to catch vandals at the Sante Fe Ranch.
Lopez, an eight-year veteran of the department, can clearly be seen engaging in the act while still wearing his entire police uniform, including his utility belt complete with gun and handcuffs!
Article continues below advertisement
The unknown woman is sprawled on her back on what is presumably her vehicle. Her jeans are clearly visible around her ankles and her top is partially off.
Adding to the bizarre tableau, a tiny chihuahua dog wandered into the scene, and watched all the action from a prime viewing spot at the officer's feet!
According to State Police spokesman Sgt. Tim Johnson, the situation is "embarrassing" but not illegal. It appears the sex was consensual, nor was it related to anything to do with his police duties, like a traffic stop.
Lopez was instantly put on three weeks of administrative leave before being fired. He now has 30 days to appeal the dismissal ruling.
In July, Lopez was given what the State Police call a Challenge Coin, awarded to officers who go above and beyond the call of duty.
He certainly did!
RELATED STORIES: