Death Penalty Trial Drama: Jodi Arias Cries On Witness Stand, Testifies About Sex Photos From Victim & Her Baptism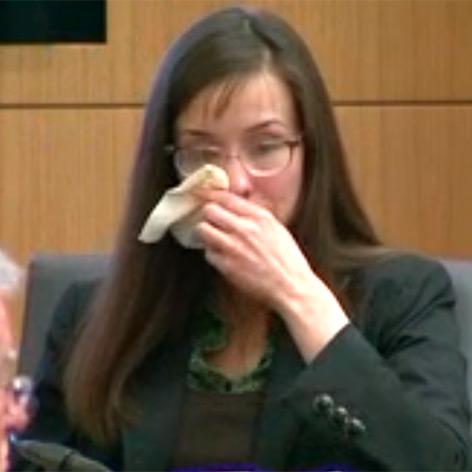 UPDATE: 6:04 PM EST Jodi Arias told jurors that Travis Alexander invited her to his grandmother's house but didn't introduce her as his girlfriend, as testimony wrapped up for Wednesday – and the week – in her death penalty trial. Much of her testimony painted the victim as treating her poorly and flirting with other women in front of Arias. She described crying alone in a bathroom stall when Alexander seemed to enjoy a very drunk woman flirting with him. As the day concluded, Arias told jurors that her boyfriend gave her a sweatshirt with the words "Travis Alexander's" on it. This is consistent with photographic evidence the defense introduced earlier this week, showing a sweatshirt with those words and panties with "Travis" printed on them. Arias and her lawyer spent much of Wednesday portraying Alexander as controlling, flirtatious with other women and treating the defendant poorly.
Article continues below advertisement
UPDATE: 5:00 PM EST Travis Alexander was portrayed as a womanizer who openly flirted with other women and didn't publicly acknowledge Jodi Arias as his girlfriend during the defendant's afternoon testimony. "It hurt my feelings," Arias said about Alexander flirting with another woman in front of her. She also described discovering "flirty" and "suggestive" messages from other women to the victim. Arias claimed she found sexual messages between Alexander and a married LDS woman and told the court that when they went on a trip in 2007, he acted like her "buddy" during the day in front of people but then had sex with her at night.
UPDATE 4:31 PM EST : After sexually graphic testimony during the morning session, Jodi Arias began explaining the emotional side of her relationship with Travis Alexander when court resumed. "He called my a skank," Arias told the jury, explaining that Alexander was on the phone and repeating a comment from one of his friends. "He called me pornstar," she added when her attorney asked if the victim had called her other names. Arias also told the jury that Alexander previously encouraged her to date others and didn't want to show her affection in front of his friends and an ex-girlfriend. This was all prior to February, 2007 when they became a couple.
Article continues below advertisement
Jodi Arias briefly cried on the witness stand Wednesday as a graphic sexual photo of her ex boyfriend Travis Alexander was shown to the courtroom.
Arias is facing the death penalty and admits to killing Alexander, but contends it was in self defense.
In her third day of testimony, Arias, 32, continued relaying intimate and graphic sexual details of her relationship with Alexander, describing sexual acts in which they engaged, and one that she refused before eventually relenting.
When her attorney Kirk Nurmi submitted into evidence a photo of Alexander's erection, Arias briefly cried. The victim's sisters put their heads down, according to Michelle Lee, a reporter in the courtroom for the Arizona Republic.
Arias said Alexander sent her the photos on her phone and then asked her to send him sexual pictures. She refused.
Arias' attorneys are trying to portray Alexander, a devout Mormon, as a man who led a double life and became controlling and abusive, causing her to kill him in self-defense.
Article continues below advertisement
As part of that strategy they married the graphic sexual testimony with questions that revealed how Alexander led Arias to become baptized.
Arias told the jury about having sex with Alexander the same day he baptized her. Continuing with the sexually-charged narrative, Arias said, "I didn't stop him," while describing Alexander performing a sexual act on her without her permission. Even though she didn't resist, she said it was "painful…it became too painful," and then gave graphic details of their sexual encounter.
Arias was comfortable with the Mormon church because it reflected her value system, she said. "A lot of things about Mormonism lined up with my beliefs," she said, adding that the one thing that turned her off was the "no-coffee rule"
She even said that she felt her sexual antics did not violate Church rules. Arias and Alexander officially became a couple on Feb. 2, 2007, she said, approximately three months after her baptism.
At one point she said her sexual experience with Alexander made her feel like "used toilet paper."
Previously, Arias told the jury that she was emotionally and physically abused by both her parents, causing her to leave home several months before her 18th birthday.
Arias and Alexander dated for several months and continued a sexual relationship after they broke up. Alexander was shot in the face, stabbed 27 times and had his throat slit. Arias admits to killing him but her defense contends Alexander became violent and she fought for her life.