Chain Gangs, Pink Underwear & Singing Contests! Inside Murder Suspect Jodi Arias' Life In Jail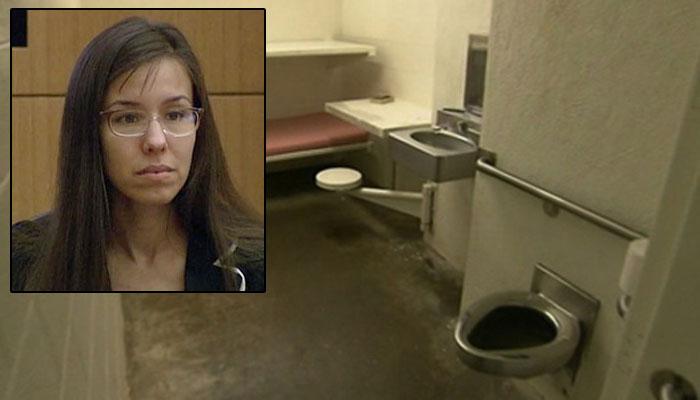 After nearly five years behind bars, murder suspect Jodi Arias seems to be enjoying her days out in court where she can bask in the spotlight of her infamy – even when it means being mercilessly grilled by prosecutor Juan Martinez.
However, when the trial rests each evening she leaves the Maricopa County Courtroom and returns to her cell at the nearby Estrella Jail in Phoenix, Arizona, and RadarOnline.com has new details on what life is like for the notorious femme fatale since she butchered former boyfriend Travis Alexander in June 2008.
Article continues below advertisement
Estrella is one of eight jails under the watchful eye of Sheriff Joe Arpaio, who since being voted into office in 1992 has become renown for his unconventional methods, publicity-seeking persona and a reputation as the head of "America's Toughest Prison."
Among his most controversial moves are to institute female chain gangs that work outside on the roadside for seven hours a day, and the controversial "Tent City," which has been described as an outdoor concentration camp where inmates' shoes melt in the triple digit heat. "It's 120 degrees in Iraq and the soldiers are living in tents, have to wear full body armor, and they didn't commit any crimes, so shut your mouths," Arpaio has been known to shout at prisoners who dare to complain.
Sheriff Arpaio always says he's an equal opportunity jailor. When women break the law, they get the same treatment as men.
Less severe and almost comical is the stylish pink underwear that gives Victoria's Secret a run for ITS money! The prison discovered that $50,000 of regulation underwear was stolen every year so to curb the theft from cons they decided to dye them pink so guards could pull the band up to check if they were regulation clothing before the wearer was released.
Article continues below advertisement
The color change made the underwear even more hot property, and now a customized line of boxers (with a Sheriff's star and "Go Joe" emblazoned on them!) and handcuffs are sold to the public to raise money for the prison system and local charities.
Sheriff Arpaio was also the host of the American Idol style singing contest that Jodi won in December 2010 by beating out 50 other contestants with her impressive performance of O' Holy Night.
In the YouTube video that has since gone viral, Arias can be seen wearing the signature pink clothing, with regulation stripes over the top.
When the inmates are not prancing around in pink panties or belting out Christmas carols, the prison, which ranges from minimum security to maximum and was built in 1992, is actually a very tough place to be.
It houses 1,000 inmates – the majority of which are women – in facilities that include general-purpose day rooms, bathroom/shower areas, outdoor recreation spaces, a chapel and educational, drug rehabilitation, or life-skills classes.
Article continues below advertisement
Like her fellow "pod mates," Jodi lives in a jail cell with one other woman, a desk and a small window, which is subjected to random "shake-downs" a few times a day in search of contraband, and she is only allowed out for one hour a day.
While cooped up in her cell, the aspiring artist has been working on her paintings, which as RadarOnline.com previously reported, are currently being sold on Ebay for around $120 each.
One the biggest bones of contention from all inmates is the terrible food, such as a suspicious brownish stew that is often served at dinner. "If you don't like the food then don't violate the law and don't come to jail," Sheriff Arpaio told his grumbling prisoners when Fox 10 News in Phoenix visited Estrella.
The prisoners have access to the Inmate Library where they can enroll in the Hard Knocks High School, learn new languages, read horror stories by such authors as Stephen King and Dean Koontz; and romance novels by Nora Roberts and Danielle Steele.
Article continues below advertisement
Not surprisingly, magazines depicting nudity or violence, books promoting illegal activity, and subjects such as "locksmithing" and "winemaking" are not allowed. However, as we saw during Thursday's testimony, Jodi does read Star magazine to while away the hours while awaiting the trial verdict.
Jodi's "sexy librarian" eye glasses have become a constant topic of conversation during her high-profile trial, and they are typical of the strict ruling stating that only plastic frame glasses and no tinted lenses are allowed. Glasses with glasses with broken frames or broken lenses that could be used as weapons are naturally banned.
Arias' visitors, such as new male admirer and dedicated supporter Bryan Carr, are allowed to see her as long as they stick to the dress code and haven't been convicted of a felony crime in the past 12 months. Typically, an inmate is allowed three thirty-minute visits in a seven-day period. Visitors are limited to 2 or 3 persons at once, depending on the age of the third visitor, between 8 a.m. and 8 p.m. She can also make collect calls up until 10 p.m., but can't receive any incoming calls.
Article continues below advertisement
All incoming mail – except legal letters - must be in the form of standard postcards, or magazine and newspaper subscriptions that are purchased directly through a publisher.
Just like any suspected murderer who ends up in the media spotlight, Jodi has her fair share of fans who can send funds to her "money account" by mailing the jail a cashier's check or Western Union money order. She can then go shopping at the canteen for toiletries such as shampoo and toothpaste, and confectionary items like candy bars.
Jails in Maricopa County only house inmates awaiting trial or those sentenced or convicted to up to one year in custody. If Arias is found guilty of either second or first degree murder she will be sent to a prison that is managed and run by the state government – and if necessarily, one with a death row.