Dirty Bedding, Disease, Drug Addicts! Inside The Dilapidated Future Prison-Home Of Oscar Pistorius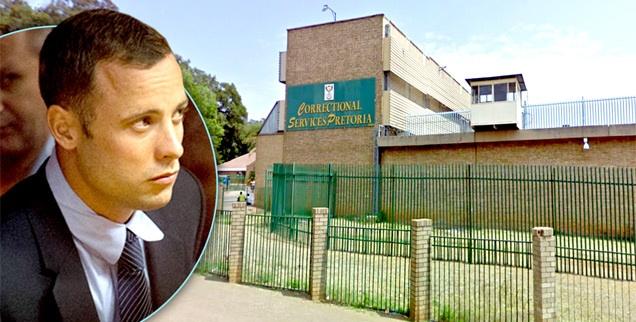 Oscar Pistorius went from an Olympic star to a crying convict when he appeared at the Pretoria Magistrate's Court on Friday as prosecutors revealed that they plan to pursue the most serious charge under the South African judicial system of "premeditated murder," despite the shamed athlete's denial in the "strongest terms" that he fatally shot his beautiful blonde girlfriend.
As RadarOnline.com previously reported, the double amputee -- known as the "Blade Runner" for his use of carbon fiber prosthetic blades -- has been charged with murdering 30-year-old model and reality star Reeva Steenkamp at his home in Pretoria early Thursday morning.
Article continues below advertisement
If found guilty, the 26-year-old star athlete will be sentenced to life, which in South Africa means at least 25 years behind bars, and he will not be eligible for parole until he is 51. (In South Africa, there is only one charge for murder and the death penalty was abolished in 1995.)
Pistorius is reportedly currently being held in a holding cell in the Boschkop police station rather than being transferred to prison like most defendants until his next court appearance.
If found guilty, however, the next quarter of a century will be very different for Pistorius, who will be sent to Pretoria Central Prison in Gauteng, South Africa, which was the official site of capital punishment during the apartheid era.
Condemned prisoners were held in a section of the prison called "The Pot," and the prison gallows could hang up to up seven unlucky death row convicts at a time.
In a shocking expose on the Centre for the Study of Violence and Reconciliation website, founder Lloyd Vogelman revealed the disgusting conditions inside the notorious penitentiary that included inmates wearing the clothes of already-executed prisoners.
Article continues below advertisement
Cells were described as containing just a bed, five dirty blankets, a toilet, and a tray table that flapped out of the wall but no chair, and sleep was in short supply because the cell light is left on 24 hours a day.
Before the death penalty was repealed, half a dozen or more condemned prisoners were thrown into the pot to "stew before they die," where they were measured for the hangman's rope and had their shoes, vests and underwear taken from them.
Life at the historical prison has reportedly not improved over the past 20 years, prompting an urgent bid in the Pretoria High Court earlier this month from six prisoners seeking protection from dangerous inmates and the deplorable conditions, reported the Pretoria News.
Stiflingly hot cells with no ventilation house up to three inmates at a time for 18 hours a day on dirty bedding with no mattresses, which allegedly violates the terms of the Geneva Convention.
Article continues below advertisement
The prisoners claim they do not get any exercise in the open air and can only walk around from 8am until 1pm in the gym area. Their food is also served in this area and as there are no tables or chairs, and they have to eat in their overcrowded cells with no utensils.
They also described the jail as being a hotbed for germs and disease because of the lack of adequate health care services, which could be a serious issue for the special medical needs of double amputee Pistorius.
The sports star could well become a target of the countless gangsters who prowl the corridors of the prison dealing drugs and terrorizing their fellow inmates. "They want to have sex with me and threaten to stab me if I tell the officials. Drugs are freely obtainable in jail and I have a serious drug problem, for which I do not get help," said Werner Wessels, one of the inmates filing the legal complaint.