Inside America's Most Overcrowded Prisons: Thousands Of Inmates Crammed Together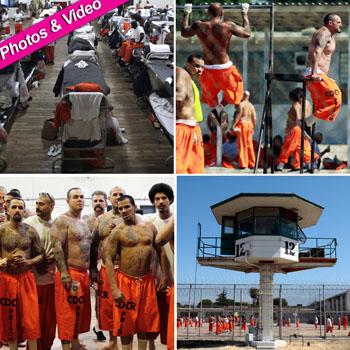 Shocking photos inside America's jam packed prisons have been released showing thousands of inmates crammed into overcrowded living conditions.
RadarOnline.com has the pictures which reveal how correctional facilities across the U.S are bursting at the seams as they try to house the more than two million criminals.
Californian facilities - where the snaps were taken - are worst hit as they house 140,000 inmates despite only being designed to hold 80,000.
Article continues below advertisement
Lines of bunk beds - some with bunks of three - are packed into makeshift living quarters in the prison gyms and other communal areas.
Cells designed to sleep just one person are now housing up to three and wardens fear the overcrowding could lead to prisoner frustration and violence.
The conditions have become so bad that the Supreme Court in California has ordered the state release 30,000 prisoners by the middle of next year.
However, despite the Bureau of Prisons Network currently at around 39 percent over capacity the figure is expected to rise to 45 percent above it's limit by 2018.
RELATED STORIES: