Exclusive
Amber Portwood's Daughter To Visit In Prison, Brother Says It Will Motivate Her To Get Out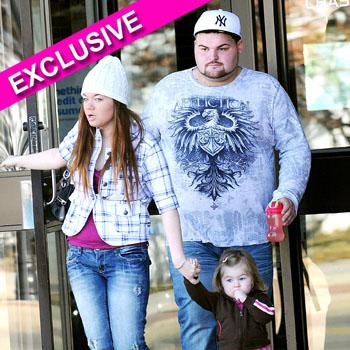 By Amber Goodhand - RadarOnline.com News Editor
Imprisoned Teen Mom star Amber Portwood will finally get to see her daughter Leah because her baby daddy has agreed to bring the 3-year-old to the jail, and Amber's brother exclusively told RadarOnline.com he's hoping the visit will motivate her to get out as fast as she can.
"Just to clear up confusion I had to find out for my daughter, Amber and myself if it was best for Leah to go where her mommy is and visit," Gary Shirley wrote on his Facebook page late Sunday.
Article continues below advertisement
"I learned that it is the best thing for Leah and Amber."
Amber's brother Shawn Portwood couldn't agree more and is hoping a visit from Leah is just what the embattled MTV star needs to keep her head up in prison and motivate herself to get out.
"It is great news. I am happy to hear that Amber will be able to see Leah. It is something that they both need right now in their lives," Shawn told RadarOnline.com.
"Seeing Leah will be a reminder for Amber that she needs to get healthy and get out of there as quick as she can. It would mean the world to Leah, I am sure. I am just happy that she will not have to ask to see 'mommy' anymore."
Amber, 22, is currently serving a 5-year prison term and until now, Gary has been telling their daughter Leah that her mom was on the West Coast filming a movie.
"It is just too bad that she won't be able to stay the night with her mom like she really wants to do. I think it is the right decision because it is the only moral decision that Gary can make in this situation," Shawn said.