Exclusive
Amber Portwood's Daughter Told That Jailed Mom Is Making A Movie In California!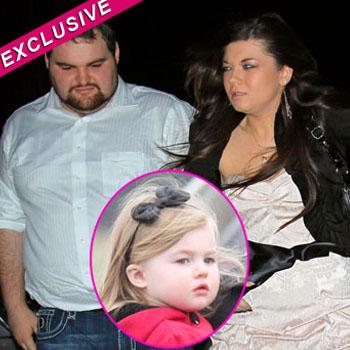 Article continues below advertisement
"Amber and Gary are going with the idea that she is away shooting a film in California," a source revealed. "This is their cover; they don't want to tell Leah that she's actually in prison - because they're not sure she would understand and don't want her thinking worse of her mom.
"But the problem is, everyone at Leah's daycare knows that Amber is her mom and that she's in prison, there's no hiding that fact.
"So, it's only a matter a time before Leah overhears it, and that has got Amber and Gary in a panic that she will find out what's going on before they tell her," the source revealed.
As RadarOnline.com previously reported, Amber, 22, is desperately trying to turn her life around in an attempt to show her daughter she can be a model parent.
She is said to be adapting to life at her current digs, Indiana's Rockville Correctional Facility, has joined the prison choir, is taking parenting classes and even working out.
Article continues below advertisement
"Amber is well aware she hasn't exactly been the model mom for Leah, and she will do anything to make it right," a source told RadarOnline.com. "It took time, but she's now taking a hard, long look at herself in the mirror and realizing she needs to make it up to her daughter.
"Her first step in starting afresh was to join the prison choir. She's actually pretty good and loves singing. She's also been working out; the exercise helps Amber focus on her targets.
"Amber also keeps a diary of her days inside. The writing is helping her find peace within herself – something she's longing for after the regret of letting her daughter down one too many times.
"The prison offers parenting classes and Amber was quick to sign up for them too, if it helps her be a better mom to Leah, then she thinks it's worth doing.
"Amber wants to use this experience to make herself a better person," the source concluded.
Article continues below advertisement