Amber Portwood's Daughter Doesn't Know She's In Prison!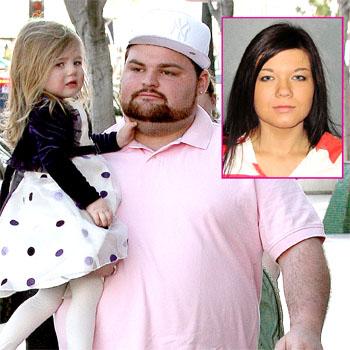 Teen Mom Amber Portwood's daughter has no idea her mother is serving time in an Indiana jail, RadarOnline.com reports.
According to the 22-year-old reality TV star's baby daddy Gary Shirley, young Leah, 3, has been kept in the dark about her mom's whereabouts because he says he can't bear to tell the toddler.
Portwood has been locked away at Rockville Correctional Facility since June 5 after a judge re-imposed a 5-year prison sentence on the TV train wreck after she chose to give up a court-ordered drug rehabilitation program.
Article continues below advertisement
"I haven't been able to say to her, that her 'Mommy's in jail,'" Shirley said.
"When I tried to tell her, 'Mommy's in trouble,' she got upset. So, I've said, 'Mommy's at work,' or 'Mommy's on vacation.'"
However, communication between Amber and Leah hasn't been completely cut off. The pair DO talk to one another over the phone.
Leah will say, "'I miss you. When can I see you?'" Shirley revealed in an interview with In Touch Weekly.
"She actually said, 'Can I come over to your house?' I don't really think Leah understands at all."
But despite the heartache of a missing mom, Leah is growing up fast and Gary says she is a "very smart, intelligent girl" and a big fan of kids' cartoon SpongeBob Squarepants and loves playing with baby dolls. However, her father is worried that: "She loves real babies more!"
Shirley, 25, is currently unemployed but looking for work. And the responsibility of becoming a single parent hasn't fazed him one bit.
Article continues below advertisement
"I'm doing the best I can," he confessed, despite moments when he is reduced to tears over his plight.
"The last time I cried was two weeks ago. It's so important to have help with Leah, and people aren't always there. It's very frustrating."
Despite his struggles, Gary hasn't filled in the "complicated" paperwork to visit Amber in prison just yet.
Amber claims to have sent the paperwork to him twice in an attempt to see her daughter but she believes Gary is simply afraid.
"I try to give him excuses," she said.
"In my head I say, 'Maybe he just can't handle it' or 'Maybe he doesn't want Leah to cry.'"
Which is something the couple are both in agreement with. Gary admitted he gets "stressed" and "depressed." He's also ashamed of his behavior on the MTV hit.
"I'm sure one day Leah will see the show, or the kids at school will say stuff about us and she'll find out everything that happened," he said.