'Teen Mom' Amber Portwood Doesn't Feel Like She Matters In Daughter's Life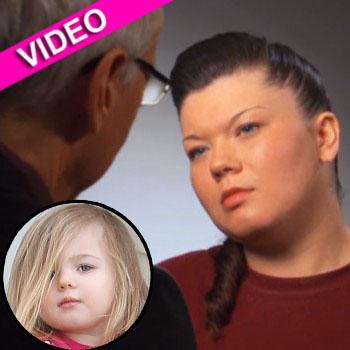 By Adam S. Levy - RadarOnline.com Staff Writer
Former Teen Mom Amber Portwood, currently behind bars, says she hasn't seen her daughter Leah in months, and it feels like she doesn't -- and never did -- matter in the child's life, we've got all the details for you here on RadarOnline.com.
Amber, speaking candidly with Dr. Drew Pinsky for MTV's Amber Behind Bars special, said that her baby daddy, 25, has refused to bring the 3-year-old to visit her at her current digs, Indiana's Rockville Correctional Facility.
Article continues below advertisement
"He has my daughter -- and anytime I get made at him on the phone, he hangs up on me!" Amber, 22, complained. "Leah can be brought in, but it all boils down to Gary, as the guardian, to sign the papers … I've sent him visitation papers twice. I think he's trying to protect Leah, too."
Amber told Dr. Drew the only visitor she receives in jail is her mother, and she doesn't "really think her daughter understands at all" that she's serving a 5-year jail term.
She said when she speaks to Leah, the child asks questions like, "I miss you … When can I see you? … Can I come over to your house?"
The reality star-turned-prisoner said Leah "doesn't even know where I'm at," and that's she's hesitant to tell her because she already let her down once in relapsing in her prescription pill addiction following a stint in rehab.
Watch the video on RadarOnline.com
"I don't know how to say that to a kid," Amber said.
Article continues below advertisement