Olympic 'Blade Runner' Gold Medalist Oscar Pistorius Charged With Murder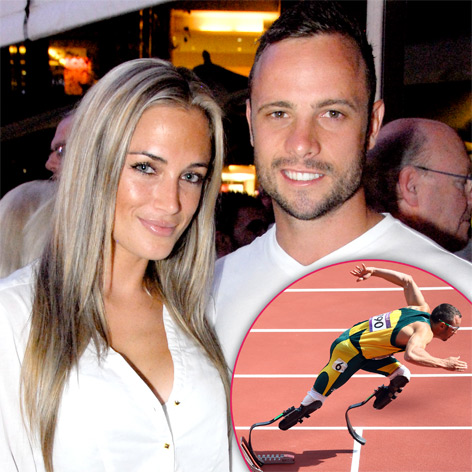 Olympic gold medalist sprinter Oscar Pistorius -- a well-known double amputee known as the "Blade Runner" for his use of carbon fiber prosthetic blades -- has been charged with murdering his girlfriend at his home early Thursday morning, according to police in South Africa.
The victim is Reeva Steenkamp, a 30-year-old model and recent contestant on Tropika Island of Treasure 5, a South African reality TV show, according to Britain's Sky News. Steenkamp reportedly had dated Pistorius, 26, for a year.
Article continues below advertisement
As of early Friday, the circumstances surrounding the shooting have not been made public, but police spokesperson Captain Sarah Mcirca did confirm to South African media that the victim was shot in the arm and head. A 9mm pistol was recovered at the scene.
Authorities also said that there had been "previous incidents" of a domestic nature reported at Pistorius' upscale home in Pretoria, but further details were not given.
Johannesburg's Talk Radio 702 reported that Pistorius may have mistaken her for a burglar, when she went to his home to surprise him.
Only hours before her death, Steenkamp posted on Twitter, asking her thousands of followers what they were planning for Valentines' Day: "What do you have up your sleeve for your love tomorrow??? #getexcited," she tweeted.
Pistorius' father, Henke Pistorius, told South Africa's SABC radio news that he didn't know details as to what had happened. "If anyone makes a statement, it will have to be Oscar. He's sad at the moment," he said.
Article continues below advertisement
Pistorius made history by being the first double amputee to take part in the Olympics. He won gold medals in the 4 x 100 meter relay and 400 meter individual events at the 2012 Paralympic Games in London.
He's huge star in South Africa, and in 2012, Time magazine named him as one of the world's 100 most influential people. He was also named one of the "sexiest men alive" by People magazine.
The South African Olympic committee said it would be inappropriate to comment on the incident, citing the ongoing police investigation, but it issued the following statement: "The organization is in no position to comment on the incident other than to say our deepest sympathy and condolences have been expressed to the families of all concerned."
Pistorius is scheduled to appear in court later Thursday for a bail hearing.