Exclusive
Behind Bars: Inside 'Batman Shooter' James Holmes' Jail Life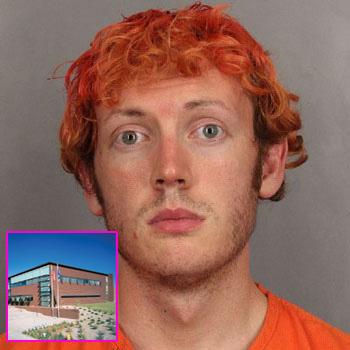 Article continues below advertisement
"We typically do this in high-profile cases," Arapahoe County Sheriff Grayson Robinson told Reuters. "It has nothing to do with any specific threat."
As RadarOnline.com previously reported, the 24-year-old California native was charged on Monday with 24 counts of first-degree murder - two counts each for the 12 victims he killed in the early morning hours of July 20 during a premiere showing of The Dark Knight Rises in an Aurora, Colorado movie theater. Holmes also injured 58 audience members during his shooting rampage and was charged Monday with two counts of attempted murder for each of those injured.
Originally opened as a one-room jail house in 1865, the current Detention Facility opened in 1987 is now a 299,241-square-foot facility with the capacity to house 1,166 inmates.
While other prisoners are aware that the high-profile alleged multiple murderer is housed within the same walls as them, most have not seen or had any contact with Holmes.
"They know he's being held in another area for his own protection," Roseann Drury, a girlfriend of one inmate told 7NEWS in Denver. "I think if he was released around the other people, obviously like everyone else they would be pretty upset with him."
Article continues below advertisement
According to the New York Daily News, an inmate who has since been released claims that Holmes was "acting crazy," and spitting "at the door and spitting at the guards," when he was first incarcerated.
Freed inmate Dima Danilov said that when the shooting suspect first arrived his face was covered with a towel and jail guards "blacked out his windows with duct tape so no one could see him. He was cuffed in the back and had leg shackles. Six officers were walking him."
Seemingly showing no remorse about the blood on his hands, a jail worker told the Daily News that Holmes even quizzed him on how The Dark Knight Rises ends. "Did you see the movie? How does it end?" he asked in the bizarre exchange as the employee walked past ignoring him.
The Arapahoe County Jail has battled severe overcrowding over recent years, with prisoners in the general population crowded into cells and sleeping on foam pads on the floor and bunk beds. A backlog of cases at the courthouse is worsening the problem as with an insufficient number of judges to hear cases, inmates are jailed longer at the county lockup before they can be tried.
Article continues below advertisement