Batman Shooter Sent Notebook 'Full Of Details About Killing People' To Psychiatrist Before Attack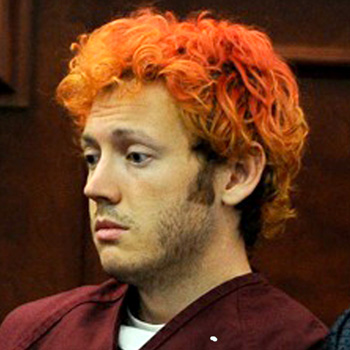 By Debbie Emery - RadarOnline.com Reporter
As the country still struggles to come to terms with the shock of Friday's mass shooting in Aurora, Colorado and continues to ask, "How could anyone do that?" a notebook full of dark secrets has been discovered that could shed light on James Holmes' mental state.
The former PhD student sent the book that was "full of details about how he was going to kill people" to a University of Colorado psychiatrist before the attack, but the seemingly innocuous parcel sat unopened in a mailroom for up to a week before its discovery on Monday, reported FoxNews.com.
Article continues below advertisement
As RadarOnline.com previously reported, 24-year-old Holmes, accused of killing 12 and wounding 58 during a premiere showing of The Dark Knight Rises, seemed wide-eyed and dazed when he appeared at the Centennial, Colorado court on Monday with a mop of reddish orange hair.
Police and FBI agents were called to the University of Colorado Anschutz medical campus in Aurora after the psychiatrist, who is also a professor at the school, reported receiving a package believed to be from the suspect. Although that package turned out to be from someone else and harmless, a search of the Campus Services' mailroom turned up another package sent to the psychiatrist with Holmes' name in the return address.
"Inside the package was a notebook full of details about how he was going to kill people," the source told Fox. "There were drawings of what he was going to do in it -- drawings and illustrations of the massacre."
Also on the pages of the spiral-bound notebook were chilling images of gun-wielding stick figures blowing away other stick figures.
The package is thought to have been in the mailroom since July 12 (but that remains unconfirmed) and it is not clear why it was not delivered to the psychiatrist or whether the doctor had previous contact with Holmes, who had studied various mental health issues and ailments as part of his curriculum during the school's neuroscience doctoral program before dropping out last month.
Article continues below advertisement
In an exclusive interview with RadarOnline.com, Los Angeles-based psychologist Dr. Seth Meyers, who has not treated the shooting suspect, said that Holmes likely suffers from a psychotic disorder, "evidenced by extreme grandiose delusions he has for power."
"His attempts to prepare months in advance for the massacre and to allegedly rig his apartment with explosives suggest that this is a man who can be cognitively organized," which is the type of behavior often seen with schizophrenics who have the paranoid type of the disorder, explained Dr. Meyers.