Controversy: Playboy Model Slammed for Batman Shooting Joke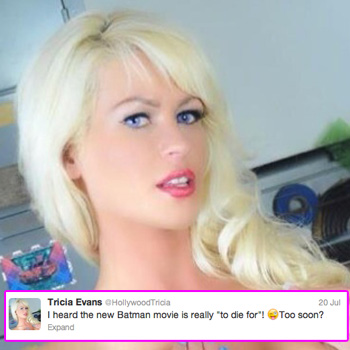 Canadian producer Deadmau5 called Playboy Playmate Tricia Evans "a piece of s***" after the blonde beauty tweeted an off-color joke about the shootings at a Batman screening in Aurora, Colorado less than 24 hours after the horrific events occurred.
Here's how it all unfolded:
Friday night Evans tweeted: "I heard the new Batman movie is really 'to die for'! Too soon?" to which Deadmau5 replied: "good to know. @HollywoodTricia i seriously had no idea how big of a piece of s*** you are. unfollowed."
Article continues below advertisement
Evans then wrote to the producer (whose real name is Joel Zimmerman), "Listen, apparently I have a different opinion than u. That doesn't make me a piece of s***," to which he responded, "so your opinion of the tragedy in Colorado is... 'humor'? not sure how that's convoluted into an opinion."
After receiving a barrage of hate tweets for her transgression, Evans tweeted: "It's official, we live in a nation full of idiots. There r very few people actually worth a s*** out there."