Deadmau5 Disses Paris Hilton's DJ Set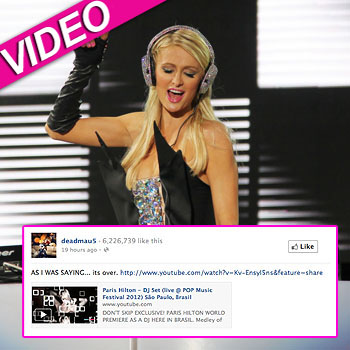 By Amber Goodhand - RadarOnline.com News Editor
Deadmau5 has ripped Paris Hilton on her latest attempt to establish a music career, RadarOnline.com has learned.
A super hot DJ and record producer, Deadmau5 tore into Hilton after she debuted her skills as a DJ in Sao Paulo for Brazil's Pop Music Festival over the weekend.
"to be fair… the mayans saw this sh*t coming," Deadmau5 tweeted.
Then he posted a video clip of Paris at her gig on his Facebook page and wrote, "AS I WAS SAYING… its over."
Article continues below advertisement
Known for feuding with fellow celebs, Deadmau5 didn't stop there.
"thanks afrojack we appreciate it. We really really do. You are the man. Thanks," he tweeted, making reference to Paris' on-again-off-again boyfriend DJ Afrojack.
"funnily enough, were on our way to go smash the f**k out of Paris… no, not that one. FRANCE. That one."
Deadmau5's attack on Paris spread like wildfire on Facebook and Twitter — and he knew it.
"jeez, it hasnt even been 24hours and im already INB4 ANOTHER PR DISASTER," he tweeted Sunday night.
Watch Paris' DJ skills below and tell us what you think in the comments.