What Created A Monster? Inside The Life Of Batman Shooter James Holmes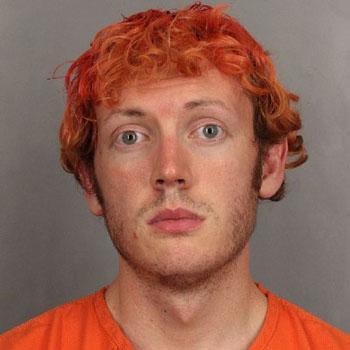 By Debbie Emery - RadarOnline.com Reporter
As the days pass since the shooting tragedy during a screening of The Dark Knight Rises, more disturbing details have emerged about suspect James Holmes' life both before and after he opened fire on a movie theater full of Colorado film-goers in the early hours of Friday morning.
If the dazed expression and dyed orange hair of the mass killer when he appeared in court on Monday wasn't bizarre enough, it has now been revealed that the 24-year-old used evidence bags as hand puppets when police interviewed him after his arrest.
Article continues below advertisement
While sitting wide-eyed, twitching and eerily detached in the interrogation room, detectives put plastic bags over the shooter's hands to preserve gunshot residue, but instead of taking it seriously The Joker dopelganger began playing with them as if they were a pair of puppets, according to CALL7 in Denver.
Despite his spaced out demeanor, Holmes didn't let his hostile surroundings or the guilt of killing 12 people and injuring 58 others disturb his appetite or his sleep pattern, acording to the New York Post, who learned from a jail worker that he wolfed down Frosted Flakes, a carton of milk and a blueberry muffin for breakfast, then slept like a baby.
According to reports, the neuroscience school dropout was adopted by parents Arlene and Robert Holmes, who made a request for privacy through their lawyer on Monday.
However neighbors and close friends of the Rancho Penasquitos, Calif., couple have revealed that James' mother was very concerned about her son's social isolation and had sought counseling for him years earlier, reported the Washington Post.
Article continues below advertisement
The former PhD student's withdrawn nature was a stark contrast to the outgoing personality of his sister, Chris, who at five years younger was a gregarious and sociable teenager with a tomboy streak and a passion for playing guitar.
Meanwhile, Batman fanatic Holmes is thought to have spent the past four months planning the plot of his own grisly horror film by stocking up bullets and bulletproof gear, and building bombs and wire traps.