Batman Shooter's Mug Shot Released As Lawyer Claims Mother Was Misquoted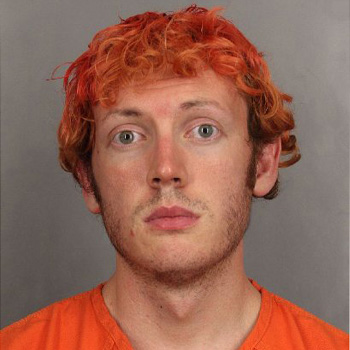 By Debbie Emery - Radar Reporter
Just hours after his first court appearance, the mug shot for Colorado shooting suspect James Holmes was released on Monday, showing the 24-year-old looking wide-eyed and deranged with a bright mop of orange hair.
As RadarOnline.com previously reported, Holmes, accused of killing 12 and wounding 58 during a premiere showing of The Dark Knight Rises in the early hours of Friday morning, showed up in the Centennial, Colorado court where he displayed a dazed demeanor.
Article continues below advertisement
Earlier in the afternoon, Holmes' family made a public statement through their lawyer, who claimed his mother was misquoted when she identified her son as the mass killer.
Arlene Holmes has been widely quoted as telling an ABC reporter, "You have the right person," when awakened by a call at around 5:45 a.m. PST on Friday to confirm if he was the suspect.
"I did not know anything about a shooting in Aurora at that time," said attorney Lisa Damiani as she read the prepared statement on behalf of Arlene to reporters in San Diego, Calif. "He asked if I was Arlene Holmes and if my son was James Holmes, who lives in Aurora, Colorado.
"I answered, 'Yes, you have the right person.' I was referring to myself, I asked him to tell me why he was calling."
Damiani went on to say that the reporter told Holmes about the shooting and asked for a comment, which she said she couldn't give because she didn't know the person he was talking about was her son.
"This is a significant case for a lot of people," Damiani went on to explain. "It is important that a case of this significance is tried in the courtroom and not in the media."
Article continues below advertisement
She asked for privacy for the family, whom she said are "doing as well as they can under the circumstances.
"At this time, we will not be discussing James and his relationship to the family," the lawyer concluded.
The California-native is being considered for first degree murder, which is a class one felony — and while he would normally be entitled to bail, Holmes is to be held on a no bail bond. He will be formally charged on Monday, July 30.