Inside The Life Of The Dark Knight Rises Shooter: Seven Things You Didn't Know About James Holmes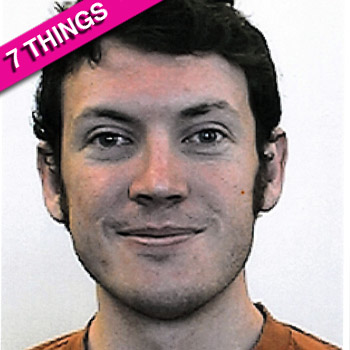 By Debbie Emery - RadarOnline.com Reporter
As Americans struggle to comprehend the depth of the tragedy that occurred during a showing of The Dark Knight Rises in the early hours of Friday morning, information is trickling in on the mass shooting suspect who currently sits in custody awaiting his fate.
RadarOnline.com has compiled a seven things about James Eagan Holmes, the loner and a medical school dropout who has killed at least 12 people and injured as many as 38 in the movie theater near Denver, Colorado.
Article continues below advertisement
1. Described as 6'3", the 24-year-old with dark hair and a seemingly friendly smile was born on December 13, 1987.
2. Since being admitted in June 2011, James Holmes was a student at the University of Colorado School of Medicine in Denver until last month, working towards a PhD in neuroscience, but why the highly intelligent young man dropped out of school is not known. According to a Twitter post from a fellow student, he recently presented on 'Psychiatric & Neurological Disorders' for his neuroscience PhD program
3.Before moving to Denver, Holmes spent his younger years in the San Diego area where he attended Westview high school in Rancho Penasquitos, California, and graduated in 2006.
4. Holmes' Aurora, Colorado, apartment – which is approximately five miles away from the Century 16 theater - was apparently booby trapped with extremely sophisticated explosives when police investigated it, with what looked like "buckets of extra ammunition" and some kind of chemical inside his home, according to CBSNews.com.
Article continues below advertisement
5. Wearing a bullet-proof vest and riot-type mask, the heavily-armed killer arrived at the theatre with two pistols, a shotgun and what is believed to be an assault rifle. Authorities also recovered a ballistic helmet and a gas mask. Despite his numerous weapons, Holmes did not resist arrest or put up a fight when apprehended by police.
6. Holmes' mother, Arlene Holmes did not seem surprised when told her son was involved, telling police: "You have the right person," when they arrived at her Rancho Penasquitos home, which suggests he displayed disturbing behavior to his family in the past. However, authorities have found no significant criminal record and no terrorist affiliations.
7. The shooting suspect described himself as "quiet and easy-going" on a rental application, but his neighbors thought of him as a reclusive loner who ignored all the other residents, none of whom knew him well, according to reports. Before setting out to commit the horrific massacre, Holmes left an unnamed song blasting out of his stereo, while a poster of Will Ferrell from the movie Anchorman hung in the kitchen.