Fugitive Siblings Remain In Colorado Jail -- See Their Bug-Eyed Mug Shots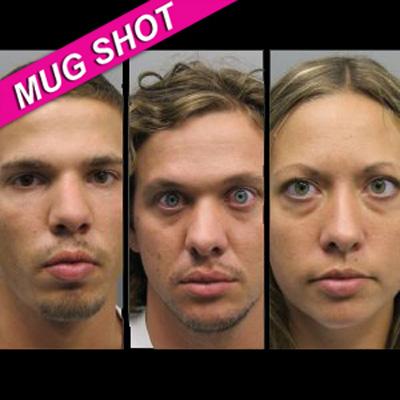 By Neil Woulfe - RadarOnline.com News Director
Three fugitives siblings running from authorities in Florida and Georgia remain in jail in Colorado Thursday, one day after their dramatic capture, and RadarOnline.com has their bug-eyed mug shots.
The three suspects, Ryan Edward Dougherty, 21, Dylan Dougherty Stanley, 26, and 29-year-old Lee Grace Dougherty, were booked into Pueblo County Jail Wednesday after being treated at a local hospital for minor injuries.
Article continues below advertisement
All three are being held on four counts of first-degree assault on a police officer.
Officials must now decide how to proceed with their extradition since their crime spree spanned several states.
Wednesday's capture of the fugitive siblings ended a dramatic nationwide manhunt that began on August 2 when they allegedly fired 20 shots at a Florida cop during a high-speed chase and later robbed a bank in Georgia at gunpoint.
The trio was arrested Wednesday after authorities received a report that the suspects were at a campground near Colorado City.
The car was gone by the time deputies arrived, but was spotted by another Pueblo County deputy near a Subway restaurant.
One suspect was in the car when deputies spotted it, and the other two siblings jumped in and a chase began at 9:36 a.m.
The chase lasted nearly 20-miles and reached speeds in excess of 100 mph at times.
Article continues below advertisement
At one point, someone from inside the car fired an AK-47 out the window at pursuing state troopers, who did not return fire.
The chase ended after a trooper set tire-puncturing stop-sticks on the road.
The siblings were traveling so fast, they ran off the side of the road, hit a guardrail and flipped their car.
Ryan and Dylan were injured in the crash and Lee was shot in the leg by a local police officer after she ran into a field and pointed a gun at the officer, officials said.
Police recovered two AK-47s, a machine pistol and a handgun from the sibling's car.
In Florida, police welcomed news of the capture.
"Ladies and gentleman, I'm proud to say we won," Pasco County, Fla., Sheriff Chris Nocco said at a news conference following their capture. "We continuously said that if these three fugitives wanted a battle with law enforcement, we would win that battle. And that's what happened today."
Article continues below advertisement
He called the siblings "very, very dangerous people" and their capture a tremendous relief.
"It's uncommon that we would come across these three siblings who would have an arsenal and (are) not afraid to use it," he said.
The Dougherty siblings' mother, Barbara Bell of East Palatka, Fla., spoke briefly with The Associated Press by phone on Wednesday.
"I'm sorry. I'm making no comment at this time. Bye," said Bell, who last week had urged the trio to surrender.
Bernie McCabe, the state attorney for the judicial circuit that includes Florida's Pasco County, said officials in the various jurisdictions have not decided how to handle the extradition of the suspects.
"I don't know the status of the Georgia situation," he told The Associated Press. "They might get first crack at them. That has not been decided yet."
All three siblings had been living together in Lacoochee, Florida, about 45 miles northeast of Tampa, and each had a criminal record.