Exclusive
Michael Lohan Reaches Out To Ryan O'Neal: I Feel Your Pain -- I Share The Guilt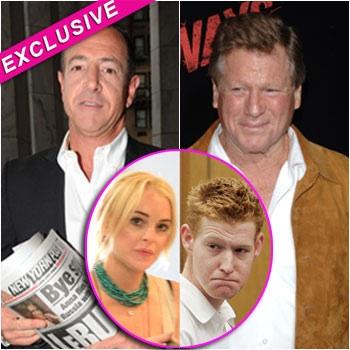 - RadarOnline.com Senior Reporter
Redmond O'Neal's father Ryan made a court appearance to stand by his troubled son on Thursday and the support he showed for his youngest child has drawn sympathy from another Hollywood father – Michael Lohan.
In an open letter exclusively obtained by RadarOnline.com Lindsay Lohan's father reaches out to Ryan – father to father - sharing his struggles with his own famous family in an attempt to lend his support.
Article continues below advertisement
Ryan,
It seems we sailed the same seas in a number of ways. First with addiction, second with relationships with our children and last, the loss of a loved one. On a number of occasions I wanted to reach out to you , but because we were dealing with the same situations at almost the same exact time , I held off.
I guess what I want to say is that I feel your pain and understand your frustration. I will even venture to say the I share the guilt, that I have and you may as well. I will say however, that I have come to KNOW, that as fathers, we can only hold ourselves accountable, for our part, for so long.
After that, its up to others, to live up to their end and hold themselves accountable as well. And as painful and frustrating as it may be, as long as we are honest with ourselves, God seems to calm the seas and helps us to weather whatever storm comes our way. And in doing so, maybe and hopefully, our children will see, learn and get through the storm as well.
My heart goes out to you, Ryan and Tatum. May God bring peace to both of our families.