Exclusive
Fugitive Sibling Lee-Grace Dougherty: I Love To Farm, Shoot Guys And Wreck Cars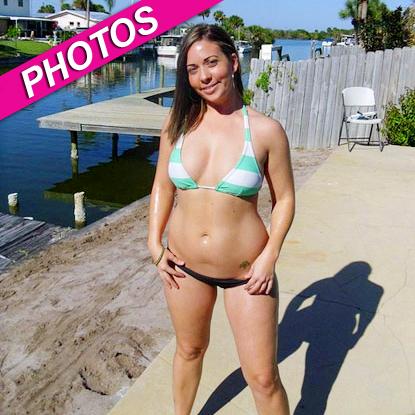 By Alexis Tereszcuk - RadarOnline.com Senior Reporter
In what could have been a scene from the movie The Legend of Billie Jean, Lee-Grace Dougherty robbed a bank, led the police on a cross-country chase and was arrested on Wednesday after being shot in the leg.
RadarOnline.com has uncovered sexy photos of the infamous 29-year-old sibling fugitive stripped down to her bikini showing off her curves on her Flickr account, where she wrote a brief bio that might raise some eyebrows.
Article continues below advertisement
"I am a Floridian. Born and raised in Seminole County. I have a huge crazy family. I'm 28, but act like I'm 17 most of the time. I love to farm and shoot guys and wreck cars.
"I'm a redneck and proud of it. I like milk and German engineering and causing mayhem with my siblings."
Dougherty worked at the Cheaters Gentlemen's Club in Cocoa Beach, Florida before her alleged crime spree and has five felony charges and six misdemeanors on her record.
She was most recently charged in two car crashes in Brevard County, Fla. and according to an FBI profile she blamed her behavior on pain killers.
Lee-Grace is the older sister of Ryan Dougherty, 21, and Dylan Dougherty Stanley 26, and the three have been on the run for a week since robbing a bank, getting in a shootout with a police officer and crashing their car in a dramatic ending to the saga.
Lee-Grace is provocatively posing in the photos, which are a far cry from her many mug shots.
Article continues below advertisement
Her boyfriend's father, Darryl Bookman, spoke to USA Today and said: "She was a lot of fun to be around and talk to." Bookman said he was surprised she was in the trouble with the law though.
"She just didn't come across to me as the kind of person they're portraying her as. I'm sure she was involved in that shootout and probably in that bank robbery, but I would have never seen that coming."
RELATED STORIES: