Mother Begs 3 Fugitive Siblings: 'Turn Yourselves In'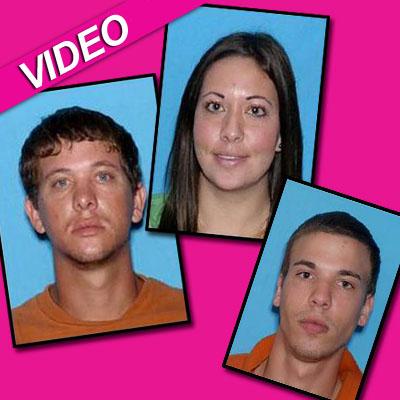 The mother of three fugitive siblings who allegedly shot at a police officer in Florida and then robbed a bank in Georgia is begging for them to surrender.
"Only Mom knows what good people you are inside," Barbara Bell told Tampa TV station WFTS. "Please prove me right and everybody wrong by doing the right thing now and turning yourselves in.
"Your lives are not over. You've made some bad mistakes, but so far no one has been physically harmed," Bell said. "The only safe thing, the only right thing, the only good thing to do is to turn yourselves in."
Article continues below advertisement
Bell is the mother of Ryan Dougherty, 21; his sister Lee Grace E. Dougherty, 29; and half-brother Dylan Dougherty Stanley, 26.
Authorities say the trio's crime spree started shortly after 7 am last Tuesday when an officer attempted to pull them over for speeding in Zephyrhills, Fla., north of Tampa.
During the five-mile chase that ensued, the trio reached speeds of up to 100 mph in their 2006 white Subaru Impreza, which had a New York license plate. They fired repeatedly at the officer and eventually punctured one of his tires.
The siblings escaped, and police later found 20 "high caliber" shell casings along the route. The officer was not hurt.
That same day, the trio traveled to southern Georgia, more than 200 miles away from the scene of the chase.
Authorities say at 12:19 pm, the three siblings, all armed and dressed in black, entered a bank in Valdosta, Florida last Tuesday, fired shots into the ceiling and demanded money.
Article continues below advertisement
At least two of the robbers showed weapons, including one described as being an AK-47 type assault rifle and the other appearing to be an automatic pistol, the FBI said.
The siblings stole an undisclosed amount of money after firing two rounds in the bank. Nobody in the bank was injured.
If the siblings are in fact responsible for this crime spree, it would not be the first time they've been in trouble with the law.
A day before the high speed chase and bank robbery, Ryan Dougherty was sentenced to 12 years' probation for sending lewd texts to an underage girl.
Bell told the Associated Press Ryan was upset over the terms of his probation because he would not be able to see his son who is due to be born within the coming week.
"That could have triggered it," Bell said.
He was wearing an ankle monitor, but cut it off before the shooting. Authorities said he has 13 felonies on his record.
Article continues below advertisement
Deputies said Dougherty sent his mother a troubling message after the shooting: "At some point we all have to die."
It was the last time she's heard from any of them.
Ryan Dougherty's siblings also have a troubled past.
Lee Grace Dougherty has been charged with five felonies and six misdemeanors including a pending case involving a hit and run from May 17. Dylan Dougherty Stanley has been charged with marijuana possession.
Law enforcement officials said the suspects should be considered armed and dangerous. If you see them or their car, call the FBI at (404) 679-9000 or the Valdosta Police Department at 229-293-3145. If you wish to remain anonymous you can call 229-293-3091.