President Obama: 'Michelle And I Are Shocked And Saddened' By Colorado Shooting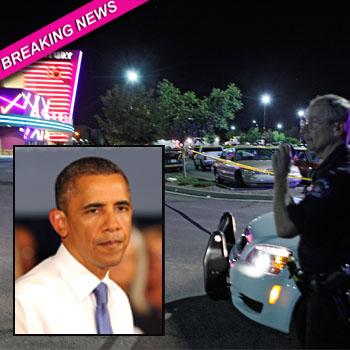 By Neil Woulfe - Radar Senior News Director
As the country woke up Friday morning to news of the horrifying shooting at a midnight screening of The Dark Knight Rises in Aurora, Colorado, President Obama released a statement expressing his sorrow.
"Michelle and I are shocked and saddened by the horrific and tragic shooting in Colorado,"  Obama said.  "Federal and local law enforcement are still responding, and my administration will do everything that we can to support the people of Aurora in this extraordinarily difficult time. We are committed to bringing whoever was responsible to justice, ensuring the safety of our people, and caring for those who have been wounded."
Article continues below advertisement
In the statement, Obama added: "As we do when confronted by moments of darkness and challenge, we must now come together as one American family."
The President was notified of the shooting by his deputy national security adviser for homeland security and counterterrorism, John Brennan, at 5:26 a.m. EST, according to White House Press Secretary Jay Carney.
Obama has pulled all of his campaign ads in Colorado in wake of the tragedy.   "We have asked affiliates in Colorado to pull down our contrast advertising for the time being.  It takes time for stations to be able to do this, but we are making every effort,"  Obama campaign spokeswoman Jen Psaki told reporters.   Romney later announced that he too would do the same.
The president appeared Friday morning at what was supposed to be a campaign rally in Fort Myers, Florida. Instead, he canceled the rally and told the crowd that  today was a day to reflect and a day to hug your children.  Meanwhile, campaign events for Vice President Biden and First Lady Michelle Obama have also been canceled. Mrs. Obama was scheduled to speak to supporters in Charlottesville and Fredericksburg Virginia, while Biden was scheduled to attend a fundraiser for Senate Democrats. President Obama's second campaign event in Winter Park, Fla. has also been canceled.