Mass Shooting 'At The Dark Knight Rises' Midnight Screening In Colorado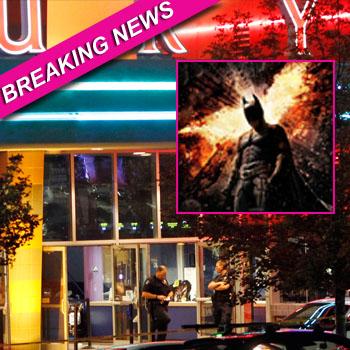 By Neil Woulfe - Radar Senior News Director
At least 12 people were killed and 38 injured early Friday after a man -- wearing a riot helmet, dressed in all-black and armed with several guns, including a rifle -- went on a shooting rampage at a midnight screening of The Dark Knight Rises near Denver, Colorado, RadarOnline.com is reporting.
Pentagon officials say several members of the U.S. military are among the casualties in the Colorado massacre.
Article continues below advertisement
Aurora police chief Dan Oates said 10 people died at the scene of the shooting and 2 others died after being taken to local hospitals. At least 38 other people were injured, Oates added.
Many of the victims are said to be critical; some others are being treated for exposure to tear gas.
Most of the victims were adults; the youngest patient -- just 3-months-old -- is said to be doing well.
"Witnesses tell us he released some sort of canister. They heard a hissing sound and some gas emerged and the gunman opened fire," Oates said. Some moviegoers originally thought it was part of a publicity stunt tied to the film's premiere.
"We were maybe 20 or 30 minutes into the movie and all you hear, first you smell smoke, everybody thought it was fireworks or something like that, and then you just see people dropping and the gunshots are constant," witness Christ Jones told ABC's Denver affiliate KMGH. "I heard at least 20 to 30 rounds within that minute or two."
Some of the bullets fired by the gunman went through the walls and ended up in the adjoining theater.
Article continues below advertisement
A man who talked to a couple who was inside the theater told ABC News, "They got up and they started to run through the emergency exit, and that when she turned around, she said all she saw was the guy slowly making his way up the stairs and just firing at people, just picking random people," he said. "The gunshot continued to go on and on and then after we didn't hear anything," the couple told the man, "we finally got up and there was people bleeding, there was people obviously may have been actually dead or anything, and we just ran up out of there, there was chaos everywhere."
Police, ambulances and emergency crews swarmed on the scene after frantic calls started flooding the 911 switchboard, officials said.
Officers found the gunman near a car behind the theater. He did not resist arrest. The man --  now identified as 24-year-old James Holmes -- was wearing a bullet-proof vest. At this time, there is no known motive for the attack.
Authorities say Holmes – who was wearing a gas mask -- had a rifle and handgun on him; he had also stashed another gun inside the theater. Police found yet another gun inside Holmes' car.
Article continues below advertisement
Authorities say Holmes told police there were explosives and possibly even a booby trap inside his apartment. Officials continue to search his unit.
Holmes is from the San Diego area. His family and friends say he left Southern California about a year or so ago to pursue a PHD in Colorado. When ABC News contacted his mother, she said she wasn't surprised about what happened.
There is no indication that the rampage is linked to any terrorist organization -- either domestic or foreign. 
The mass shooting happened about thirty minutes into the screening at the Century 16 Movie Theaters at the Aurora Town Center, which is less than 10 miles east of downtown Denver.
There's a massive amount of police on the scene – some 250 officers; the FBI is also involved.
Meanwhile, the cast of The Dark Knight Rises -- including Christian Bale, Anne Hathaway and Tom Hardy -- is in Paris for a scheduled red carpet premiere on the Champs-Elysees Friday night. Warner Bros. has canceled all interviews related to the movie opening, as well as the premiere itself in wake of the tragedy.
Article continues below advertisement