Exclusive
Dark Knight Rises Shooter Could Have Been Stopped 'If Members Of The Audience Were Armed,' Says American Guns Star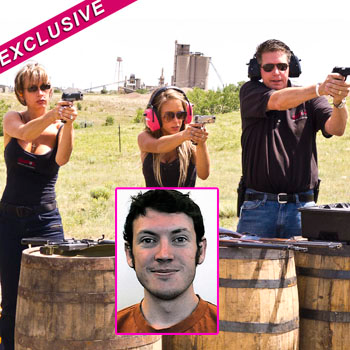 The tragic mass killing in the early hours of Friday morning in a movie theater has put the gun control debate at the forefront, and while many marvel how 24-year-old suspect James Holmes could have been so heavily armed, a reality star and gun advocate has exclusively told RadarOnline.com that she believes the tragic incident could of been avoided — if MORE people carried guns.
"If a member of the audience in the front row of that theater was carrying a gun and had the ability to effecively use it, that gunman could have been neutralized before he ever got a second round into the crowd," Renee Wyatt, the matriarch and business manager on Discovery's American Guns show told RadarOnline.com in an exclusive interview.
Article continues below advertisement
"This kind of incident is a perfect example of why people who have acquired the ability to shoot should carry guns," she went on to say.
As RadarOnline.com previously reported, at least 12 are dead and 59 injured after Holmes -- wearing a riot helmet, dressed in all-black and armed with several guns, including a rifle -- went on a shooting rampage at a midnight screening of The Dark Knight Rises near Denver, Colorado.
Gun control advocates are demanding a tightening of laws especially those banning assault weapons, but Wyatt believes more armed citizens would have saved the lives of young victims.
"There were a large number of young people in that movie, and don't think the gunman didn't plan on that. As a mother I have the first and foremost responsibility to protect my children," said the co-owner of Gunsmoke Guns in Wheat Ridge, Colorado.
Article continues below advertisement
"Parents taking their kids to performances such as this should have the option available to address any threat by having a gun and knowing how to use it. If the venue has a policy of no concealed weapons, take your kid somewhere else.
"Just think about how many lives could have been saved last night if members of that audience had the ability to fight back against that deranged individual," she concluded.
Mass Shooting 'At The Dark Knight Rises' Midnight Screening In Colorado