Exclusive
Inside The Balinese 'Hell On Earth' Where Drug Smuggling Granny Facing Death By Firing Squad Is Being Held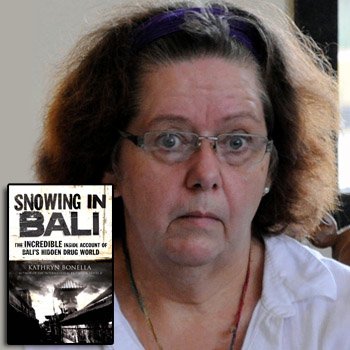 A British grandmother who was sentenced to death last Wednesday for smuggling drugs into Bali is still reeling from the shock and devastation of one day possibly facing a firing squad — but, RadarOnline.com can exclusively reveal that her current life behind bars on the Indonesian island is equally as horrific as the mode of potential execution.
Lindsay June Sandiford, 56, from Gloucestershire, England, is being held at Kerobokan Jail after being arrested at the airport last May following 10.6 pounds of cocaine, worth $2.5 million, being discovered in the lining of her suitcase — however she maintains that she was forced to take the drugs into the country by a gang that was threatening to hurt her children.
Article continues below advertisement
Dubbed 'Hotel K,' the infamous prison is notorious for its deplorable conditions, dark and violent underworld and cramped and disease-ridden cells, where a 'United Nations of prisoners' - Australians, Americans, Germans, Brazilians, French, English, Scottish, Mexicans, Italians - live crushed together in misery.
"When you first walk into Hotel K it looks like a resort because there are soccer fields and palm trees, but when you get past the entrance it is hell on earth," Kathryn Bonella, author of Snowing In Bali: The Incredible Inside Account Of Bali's Hidden Drug World, tells RadarOnline.com in an exclusive interview. "The jail is three times over capacity – it is meant to house 300 inmates but has over 1,000.
"It is incredibly dangerous, with pedophiles, serial killers and someone who was caught with just two ecstasy tablets, or stole an apple, all in there together because there is no segregation," says the Australian writer, who has been researching the illegal drug industry in Bali since 2005.
The mixed sex jail usually has around 100 female inmates, who are split between 10 cells in the center of the prison, that have bare concrete walls and bars on the windows.
Article continues below advertisement
"There are rats running around, one girl recently woke up and saw a rat crawling over someone's pillow," reveals Bonella as she detailed the disgusting conditions in which Sandiford will live during her years of appeals, and possibly for the rest of her life.
"Drugs are rampant, there is a real problem because the dealers continue to deal. It is well known as the drug hub of Bali and there is bust after bust inside the jail.
"Lindsay will be sharing a cell with 10 to 15 women squashed together in the stinking heat, with one squat toilet that often blocks and overflows, spewing sewage on the floor."
While writing her 2009 expose, Hotel K, Bonella got personal insight into the depraved conditions at Kerobokan, which has been home to both the infamous and the tragic: a Balinese King, Gordon Ramsay's brother, Muslim terror bombers, beautiful female tourists and surfers from across the globe.
Article continues below advertisement
"It has been know for heroin users to shoot up in the cell right next to other inmates using a little Bunsen burner to cook their dinner," the author and former 60 Minutes reporter tells Radar.
"It is full of peasants who don't understand hygiene stinking it up – body odor is so bad because people don't wash as the only option is a little bathroom where the squat toilet is and a concrete basin with a bucket and ladle, then they are locked up from 4am to 7 pm together."
Despite the foul stench and poor personal hygiene, surprisingly, "There's a lot of sex that goes on in there too!" reveals Bonella.
Dubbed the 'Queen of Cocaine,' because of the large amount of drugs she carried, Sandiford is now one of four foreigners on death row in Kerobokan, where she will no doubt spend years appealing her capital sentence.
Snowing In Bali: The Incredible Inside Account Of Bali's Hidden Drug World by Kathryn Bonella is available at Amazon.co.uk