British Grandmother Sentenced To Death By Firing Squad For Smuggling Drugs Into Bali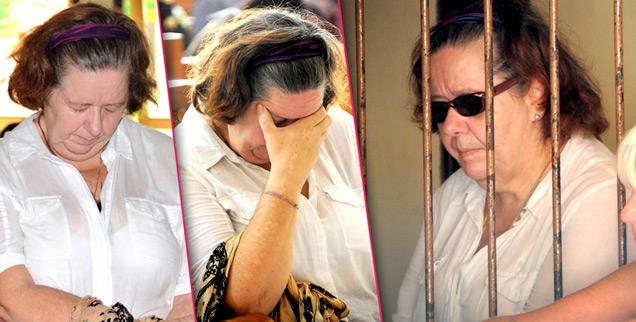 A British grandmother may never see her grandkids grow up after being sentenced to death by firing squad for smuggling $2.5 million of cocaine onto the Indonesian island of Bali .
Lindsay June Sandiford, 56, wept openly when she was handed down the devastating sentence despite prosecutors only recommending a 15-year prison sentence, reported the BBC.co.uk.
The granny, from Gloucestershire, England, was arrested at the vacation island's airport last May after 10.6 pounds of cocaine was found in the lining of her suitcase during a routine customs check -- however she maintains that she was forced to take the drugs into the country by a gang that was threatening to hurt her children.
Article continues below advertisement
Like many Asian countries, Indonesia hands down tough penalties for drug smuggling and most of the 40 foreigners currently on the country's death row have been convicted of narcotic related crimes. Sandiford's attorneys said they were "surprised" by the harsh punishment and will appeal, but that could take many years.
Refusing to show sympathy for the unlikely criminal, the judge told the court that the defendant did not appear to care about the consequences of her actions and had damaged the image of Bali as a tourism destination and weakened the government's anti-drugs program.
Sandiford is accused of being at the center of a drug-dealing ring involving three other Brits. Two received short sentences last year for possession and failing to report a crime, and the fourth, Julian Ponder, is expected to receive his verdict on Wednesday for allegedly receiving the drugs upon arrival in Bali.
The grandmother convict's cause has now been taken up by British human rights charity Reprieve, which claims she had been "targeted by drug traffickers who exploited her vulnerability and made threats against her children."
Article continues below advertisement
"She is clearly not a drug king pin - she has no money to pay for a lawyer, for the travel costs of defense witnesses or even for essentials like food and water," said Reprieve spokesperson Harriet McCulloch.
"She has cooperated fully with the Indonesian authorities but has been sentenced to death while the gang operating in the UK, Thailand and Indonesia remain free to target other vulnerable people."