Lance Armstrong Is 'A False Image Created By Himself,' Says Former Assistant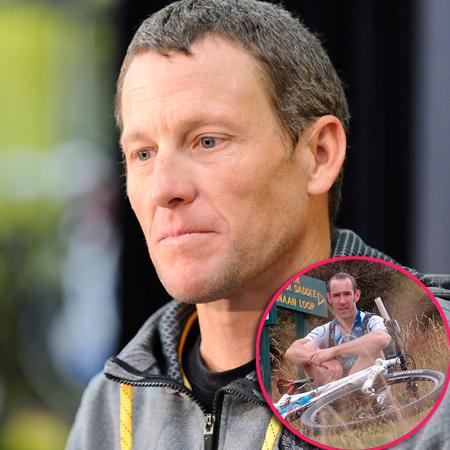 Things could get a whole lot worse before they get better for cyclist Lance Armstrong, who won't be miraculously saved from disgrace by his long-awaited doping confession this week.
Rather than admitting on-camera to cheating his way to the top of his sport for years with the help of performance enhancing drugs, the athlete should be telling a judge in court and facing jail time, says his former assistant and right-hand man.
Article continues below advertisement
"I have a pretty solid understanding of who Lance Armstrong is. He is a very calculating individual. Everything that he does is with forethought and for his own benefit," Mike Anderson, who was so close to his employer that he was dubbed 'husband number two,' told the MailOnline.
"Frankly I hope he goes to jail. He introduced a sort of corruption to cycling's governing body that is very American: loads of money and PR," he revealed. "Lance Armstrong is a false image created by himself. He's inundated the media for years to control the public's perception of him."
As RadarOnline.com previously reported, the former sporting legend, who was stripped of his seven Tour de France titles and banned from almost all sporting events in the future following a lengthy investigation by the U.S. Anti-Doping Agency, resigned from the board of directors for Livestrong on November 4, 2012.
Anderson first encountered the fake icon when he was just 16 when the pair were cycling enthusiasts in Dallas, Texas, however his respect for him was dashed years later when he discovered Armstrong's drug-stash in a bathroom cabinet and evidence that he was avoiding random drug tests.
Article continues below advertisement
"He should have his day in court. He's committed perjury. He's weaseled out of allegations for years. He should be taken down and I hope he takes a lot of other people with him," claimed Anderson.
"Because it's not just Lance. There are guys still being protected. For a change it's Lance being dragged through the mud but there are others and every last penny those guys have earned in the sport they have gotten fraudulently."
Anderson's allegations are far from the only backlash that the Livestrong founder is facing following his change of tune, and he should expect a wave of costly lawsuits, the latest of which could be from the state of South Australia.
Armstrong took several million dollars in appearance fees from the Australian state to promote the Tour Down Under cycle race from 2009 to 2011, Premier Jay Weatherill said on Tuesday, reported the New York Post.
Article continues below advertisement
"We'd be more than happy for Mr. Armstrong to make any repayment of monies to us," he added, saying he is considering a lawsuit.
Lance's sponsors, who dropped him en masse last October on the heels of a damning US Anti-Doping Agency report, may be next to drag him into civil court, along with Trek Bicycles. Dallas-based SCA Promotions is demanding Armstrong return as much as $13.7 million in bonuses paid him for winning his sixth Tour de France title in 2004, and are willing to see him court if he refuses.
The flood of legal action could mean financial ruin for the former champ, who lost more than $50 million in endorsement deals from Nike, Radio Shack and Anheuser-Busch last year.
According to court documents made public last month, the feds are also considering joining a lawsuit over the $40 million in funds his racing team accepted when it was sponsored by the US Postal Service, which had a no-doping clause.
The 2-part interview will air Thursday and Friday on OWN.