Lance Armstrong May Confess To Doping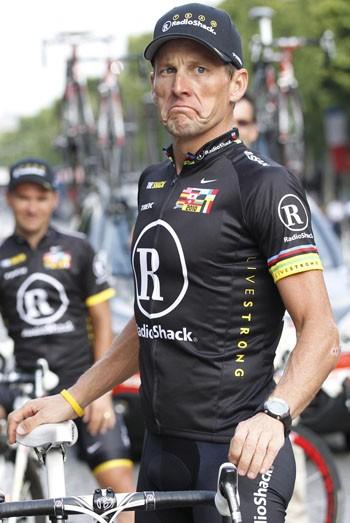 After a decade of vehement denials that he ever used performance enhancing drugs,Lance Armstrong is strongly considering admitting that he did just that, The New York Times is reporting.
Armstrong has already been in discussions with the head of the U.S. Anti-Doping Agency, according to The Times, in the hope that such an admission would convince the organization to lift its ban on Lance's participation in the sports it covers, including triathlons.
Article continues below advertisement
As RadarOnline.com has been reporting, Armstrong was stripped of all his Tour de France titles after a scathing report documenting his years of doping and pressuring others on his U.S. Postal Service pro cycling team to do the same. In October, International Cycling Union President Pat McQuaid said that Armstrong "has no place in cycling and he deserves to be forgotten," calling the erasing of the disgraced athlete's name from the record books "a landmark day for cycling."
Confessing -- if Armstrong does it -- comes with many complications. Lance is being sued by a London newspaper that wants back the money it paid him in a defamation lawsuit. SCA Promotions is also suing him for $12 million in connection with pay-outs made for his Tour de France victories. And he could face perjury charges from the U.S. Department of Justice.
Armstrong hasn't yet made a definitive decision on what to do, but he appears to be leaning towards coming clean, according to The Times.
"Lance has to speak for himself on that," said his attorney Tim Herman.