Lance Armstrong Cuts Formal Ties With Cancer Charity Livestrong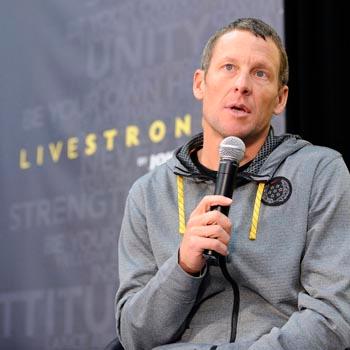 By Debbie Emery - RadarOnline.com Reporter
Could this be the final step in Lance Armstrong's public career?
The shamed cyclist who was stripped of his seven Tour de France titles and banned from almost all sporting events in the future resigned from the board of directors for Livestrong on November 4, it was revealed on Monday. He had previously resigned as chairman from the charity on October 17, but he had kept a seat on the board.
Article continues below advertisement
As RadarOnline.com previously reported, following years of suspicion and a lengthy investigation by the U.S. Anti-Doping Agency, the International Cycling Union President Pat McQuaid declared last month that Armstrong "has no place in cycling and he deserves to be forgotten," calling the erasing of the disgraced athlete's name from the record books "a landmark day for cycling."
Despite the dramatic departure from the charity that he founded in 1997, Lance "remains our founder and inspiration and our biggest donor," said spokeswoman Katherine McLane, reported the New York Daily News.
In an official statement, Livestrong official and new chairman Jeff Garvey told supporters, "Lance Armstrong has chosen to voluntarily resign from the Board of Directors of the Livestrong Foundation to spare the organization any negative effects as a result of controversy surrounding his cycling career.
"We are deeply grateful to Lance for creating a cause that has served millions of cancer survivors and their families."
Article continues below advertisement
In August, Armstong lashed back at his critics, saying "I know who won those seven Tours, my teammates know who won those seven Tours, and everyone I competed against knows who won those seven Tours.
"The toughest event in the world where the strongest man wins. Nobody can ever change that."
While he has not personally commented on his departure from Livestrong, the 40-year-old posted a photo on Twitter over the weekend of himself lying on his couch surrounded by his seven yellow Tour de France jerseys, with the caption: "Back in Austin and just layin' around … "