Lance Armstrong's Team 'Ran Most Sophisticated Doping Program Cycling Has Ever Seen,' Claims USADA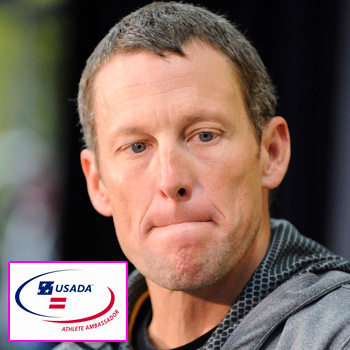 By Debbie Emery - RadarOnline.com Reporter
Shamed cyclist Lance Armstrong has called the doping case against him an "unconstitutional witch hunt," but a report from the United States Doping Agency to be released on Wednesday reveals the avalanche of proof against him, including testimony from 11 of his teammates.
"The evidence shows beyond any doubt that the U.S. Postal Service Pro Cycling Team ran the most sophisticated, professionalized and successful doping program that sport has ever seen," USADA said in a statement from chief executive Travis Tygart, reported Yahoo! Sports.
Article continues below advertisement
The mammoth investigation spans 1,000 pages and features sworn testimony from 26 individuals, "including 15 riders with knowledge of the USPS team and its participants' doping activities."
As RadarOnline.com previously reported, the seven-time Tour de France winner was stripped of his titles and banned from competition for life in August in the wake of the drugs scandal.
"It's a heartbreaking example of win-at-all-costs overtaking the fair and safe option," Tygart said at the time. "There's no success in cheating to win."
The 40-year-old cycling icon adamantly denied the accusations, but vowed he was done fighting it. "The toll this has taken on my family and my work for our foundation and on me leads me to where I am today - finished with this nonsense."
Rather than the unfair targeting that the cancer survivor claims he is a victim of, the USADA information "includes direct documentary evidence including financial payments, emails, scientific data and laboratory test results that further prove the use, possession and distribution of performance-enhancing drugs by Lance Armstrong and confirm the disappointing truth about the deceptive activities of the USPS team, a team that received tens of millions of American taxpayer dollars in funding."
Article continues below advertisement
According to Yahoo Sports! Armstrong's lawyers have continued to attack the credibility of USADA's case, describing the proceedings as a "kangaroo court" and a "witch hunt" on the eve of Wednesday's release.
"USADA has continued its efforts to coerce and manufacture evidence from other riders through threats and sweetheart deals and generated self-serving media coverage through leaks and piecemeal release of tired, disproven allegations," Armstrong's attorney, Timothy J. Herman, wrote in a letter.
"This reasoned decision will be a farce... while USADA can put lipstick on a pig, it still remains a pig."
The 11 of Armstrong's teammates identified in the investigation are: Frankie Andreu, Michael Barry, Tom Danielson, Tyler Hamilton, George Hincapie, Floyd Landis, Levi Leipheimer, Stephen Swart, Christian Vande Velde, Jonathan Vaughters and David Zabriskie.
"It took tremendous courage for the riders on the USPS Team and others to come forward and speak truthfully. It is not easy to admit your mistakes and accept your punishment," USADA said.
Article continues below advertisement
"But that is what these riders have done for the good of the sport, and for the young riders who hope to one day reach their dreams without using dangerous drugs or methods."
Along with his beloved cycling, Armstrong was also barred from competing in last weekend's Chicago Marathon because his ban includes any sport that the USADA covers.
RELATED STORIES:
What Is Boosting? Inside Secret Cheating Tactics Of The Paralympics
Lance Armstrong's Former Assistant Calls Him Vengeful Bully
Sheryl Crow Cooperated With Investigators In Lance Armstrong Doping Case
Defiant Lance Armstrong Races Again: "Nobody Needs To Cry For Me"