Lance Armstrong's Former Assistant Calls Him Vengeful Bully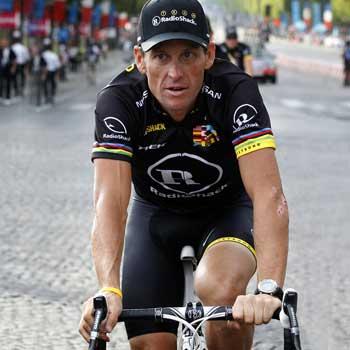 Lance Armstrong's former assistant Mike Anderson has penned a scathing article about the disgraced cyclist for Outside magazine.
Anderson, who worked as Armstrong's personal assistant and mechanic from 2002 to 2004, calls Armstrong a vengeful, spiteful man who tried to destroy anyone who disagreed with him about anything.
Anderson also claims he saw Androstenedione, a banned steroid in Armstrong's medicine cabinet, and heard him say he "hated going to these f**king things" in reference to his Livestrong Foundation events.
Article continues below advertisement
As RadarOnline.com reported, on August 24, the U.S. Anti-Doping Agency stripped Armstrong of his seven Tour de France titles shortly after he announced he was going to give up his legal challenges against the organization.
But Anderson's article is less about Armstrong's use of performance-enchaning drugs than about how he dealt with the people around him.
He constantly feuded with team members, Anderson claims, and sought to discredit any who left his team to head out on their own.
Anderson described being told to "de-Kiking" Armstrong''s apartment in Spain prior to a race there because Lance would be bringing girlfriend Sheryl Crowe with him. Kik was Armstrong's wife Kristin's nickname. Anderson said he was told to get rid of everything of hers, with no instructions about where things should go. There was clothing, personal items, mementos, and family photos, and it was all dumped like ordinary trash.
Article continues below advertisement
"In the middle of this purge, I found a prescription box in the medicine cabinet—to the side of the vanity in the bathroom—that sent everything spiraling. I knew what it was. Not exactly at first, but I sensed from my rudimentary knowledge of medicine that this box shouldn't be in the bathroom of a professional cyclist.
The label said Androstenedione. I looked it up on a laptop computer Armstrong had given me months before. I was searching for valid reasons why he would have this substance, a banned steroid. There were none. I put it back and did my best to forget about it."